National Guard deployed in 22 states to help with COVID-19 response
Guard members have been activated to distribute food, run screening facilities and disinfect public spaces
---
Miami Herald
MIAMI — More than 1,500 National Guard members throughout 22 states are assisting in the coronavirus pandemic, according to the Guard. Thousands more are on standby for if their states need them.
In New York, which has been one of the state's hit the hardest by COVID-19, members "have been working with state and local officials to distribute food, disinfect public spaces and help run mobile screening facilities," according to the National Guard.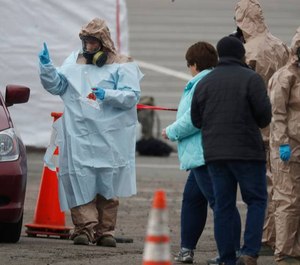 Additional missions for the Guard include helping at drive-thru testing facilities, providing transportation and support for healthcare professionals and helping state's emergency operations centers, according to Federal News Network.
The Guard was activated in Texas Tuesday as a precautionary measure to make sure it "has the capability to serve at a moment's notice when they are needed most," Governor Greg Abbott said in a statement, according to the Texas Tribune.
In West Virginia, the lone state that has not had a confirmed coronavirus case, some Guard members are training civilian first responders "on how to mitigate the exposure to the virus of paramedics and first and rescue personnel," Politico reported.
New Jersey Gov. Phil Murphycalled upon the Guard to help in "any way necessary," NJ.com reported. The Guard in New Jersey will help direct traffic to testing sites and will deliver food and supplies, the publication states.
Duties for Guard members in Maryland include building tents outside of medical facilities in case the indoor facilities fill up, according to Stars and Stripes. The website also reported Guard members are assisting with former passengers on the Grand Princess cruise ship who are being screened In Baltimore.
Members of the National Guard have not yet been called up on the national level.
"Bottom line, our force must remain flexible, innovative and ready to help America mitigate the impacts of this virus," stated Gen. Joseph Lengyel, chief of the National Guard Bureau.
The military's Defense Support for Civilian Authorities doctrine states it will provide "support to prepare, prevent, protect, respond and recover" from domestic incidents.
McClatchy-Tribune News Service