Ex-Nev. lawmaker who fled police sentenced
Prosecutors agreed to drop charges alleging he threw an object out of his SUV and attacked a police dog
---
Associated Press
VICTORVILLE, Calif. — A former Nevada lawmaker who led California police on a high-speed chase on the day he was expelled from the state Assembly was ordered to two years and eight months in prison, although a judge ruled he's already fulfilled his sentence.
Steven Brooks was sentenced Friday, after pleading no contest in March to evading a peace officer and resisting arrest in a pursuit last spring along Interstate 15. Prosecutors agreed to drop charges alleging he threw an object out of his SUV and attacked a police dog.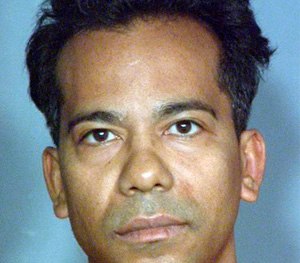 Brooks, 42, has been held in a San Bernardino jail. The judge gave him credit for 970 days, including 485 actual days in jail and credit for another 485 days for good behavior.
He's expected to be extradited back to Nevada, where he faces other charges, according to the Nevada Attorney General's office.
Police said that on March 28, 2013, a disheveled Brooks fled the scene of a disagreement with a tow-truck driver in Barstow, leading police on a chase while allegedly throwing metal objects out the window of his SUV.
The 20-minute pursuit covered about 23 miles and averaged more than 80 mph until officers deployed a spike strip to stop Brooks' vehicle. Brooks was accused of choking and hitting a police dog with a metal socket wrench after he was stopped in Victorville.
Earlier the same day, the Democrat from North Las Vegas became the first Assembly member expelled from the Nevada Legislature by colleagues who cited a pattern of bizarre behavior and said they didn't feel safe around him.
Brooks was indicted in Nevada in 2013 on a felony possession of a firearm by a prohibited person charge stemming from a Jan. 19 arrest that began his public spiral. Brooks was initially accused of threatening other state legislators.
Copyright 2014 The Associated Press