Jeff Sessions warns gang members: 'We will hunt you down'
Sessions told law enforcement officials in Boston that they cannot allow violent street gangs such as MS-13 to turn cities into war zones
---
By Alanna Durkin Richer
Associated Press
BOSTON — U.S. Attorney General Jeff Sessions warned gang members on Thursday that they will be hunted down and brought to justice so they can no longer terrorize communities.
Sessions told law enforcement officials in Boston that they cannot allow violent street gangs such as MS-13 to turn cities into war zones.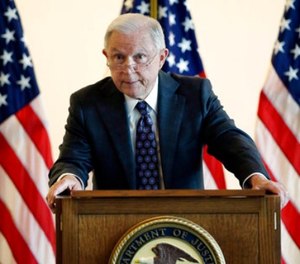 "We are coming for you," Sessions said during a speech at the federal courthouse. "We will hunt you down, we will find you and we will bring you to justice."
MS-13, or La Mara Salvatrucha, is believed to have been founded in Los Angeles in the 1980s by immigrants fleeing El Salvador's bloody civil war and has grown into one of the largest street gangs in the country, with more than 10,000 members, federal officials say.
The gang, whose motto is "kill, rape, control," is known for its use of gruesome tactics, including hacking and stabbing its victims with machetes. It has been tied to a wave of recent violence on Long Island, just east of New York City, and has been linked to brutal killings in other states.
Sessions applauded Massachusetts federal prosecutors' dedication to dismantling the gang, pointing to a massive roundup of its members in the state last year.
More than 50 members of the gang in and around Boston were indicted in January 2016 on federal racketeering charges, including murder, conspiracy to commit murder and attempted murder.
Sessions, a Republican, said gangs are exploiting a program for unaccompanied minors found crossing the southern border by sending members over as "wolves in sheep clothing" and recruiting in communities.
Gregory Chen, director of government relations for the American Immigration Lawyers Association, called that assertion "truly baseless." The program aids children fleeing violence in their home countries, he said.
"He's trying to inflame public opinion against this highly vulnerable population," Chen said.
A few dozen protesters carrying signs with phrases such as #NotWelcome gathered outside the courthouse before Sessions' speech to condemn his views on immigration and law enforcement.
Sessions' visit to Boston included a briefing from local officials on MS-13 and a discussion with local police chiefs.