Authorities: Man stashed 2 pounds of heroin in underwear
Customs officials at Kennedy International Airport say they discovered shrink-wrapped cylinders in the underwear of a Colombian man
---
Associated Press
NEW YORK — Customs officials at Kennedy International Airport say they discovered shrink-wrapped cylinders filled with two pounds of heroin in the underwear of a Colombian man arriving in the United States.
U.S. Customs and Border Protection officers reported Tuesday that the drug was found in the passenger's groin area when he was searched in a private room.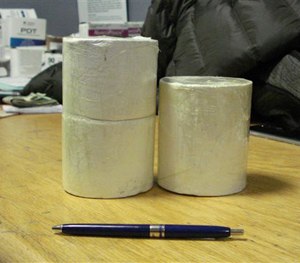 The suspect, Ivan Vidal Forero, faces federal narcotics smuggling charges. He was arrested last week after he got off a flight from Bogota and was handed over to Homeland Security investigators.
The two cylinders contained a powdery substance that tested positive for heroin, with an estimated street value of more than $61,000.
The case is to be prosecuted in Brooklyn federal court.
Copyright 2015 The Associated Press