Ex-officers face trial in deadly 2014 NM standoff
The nearly five-hour standoff that ended in the fatal shooting of James Boyd sparked protests
---
By Mary Hudetz
Associated Press
ALBUQUERQUE, N.M. — Albuquerque police overreacted during a 2014 standoff with a homeless man armed with knives and then intentionally killed him, a special prosecutor said Monday as the long-awaited murder trial of two former officers got underway.
"All of these shots were no accident or a mistake," special prosecutor Randi McGinn said in her opening statement about the shooting that set off protests citywide.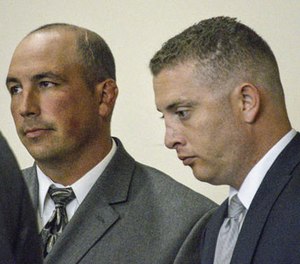 It appeared from police video that James Boyd was preparing to surrender when authorities opened fire in March 2014, ending a nearly five-hour standoff in the foothills of the Sandia Mountains that drew 19 officers.
The situation unraveled as a flash grenade went off near Boyd — who authorities say had paranoid schizophrenia. Officers then approached him, and he reached for two pocket knives. He was shot seconds later.
Now-retired Keith Sandy and former Officer Dominique Perez are charged with second-degree murder. Their lawyers say they opened fire to protect the officers closest to Boyd.
McGinn argued that a "paramilitary response" created a dangerous situation that led to Boyd's death.
Video from officer helmet cameras released after the shooting sparked unrest in Albuquerque that shut down streets and City Hall, offering an early look at the anger over police use of force that would begin to sweep the U.S. later in 2014 following shootings in Ferguson, Missouri, and elsewhere.
Testimony will unfold over the next two weeks amid the national debate over police tactics, which has largely focused on race but also raised questions about deadly conflicts with those who are mentally ill.
"This has become one of the most polarizing issues of our time," McGinn said during jury selection. "Every week or every month, it seems there is a shooting of citizens by police and shootings of police."
Boyd's death led Mayor Richard Berry to call for the U.S. Justice Department to speed up its investigation into claims the city's police force used excessive force. A month later, a harsh federal report found Albuquerque police too often used deadly force on people who posed a minimal threat and often used a higher level of force on suspects with mental illness.
The city and Justice Department have since agreed on a settlement to overhaul the police department with court-mandated reforms, including new use-of-force procedures that emphasize de-escalating crisis situations.
Prosecutors charged Sandy and Perez in January 2015 — a year in which at least 15 other police officers nationwide were charged with manslaughter or murder, up from the average of five per year over the previous decade.
The former officers' lawyers say they opened fire to protect a K-9 handler standing closest to Boyd, and they were obligated to shoot as their training required them to do.
McGinn raised questions about whether officers followed protocol during the standoff and suggested that Boyd was not a threat.
Jurors must weigh whether Sandy and Perez justifiably perceived that Boyd posed a life-threatening danger to other officers as they surrounded him.
A 1989 Supreme Court decision concluded that an officer's use of force must be evaluated through the "perspective of a reasonable officer on scene rather than with the 20/20 vision of hindsight."
Prosecutors are seeking a conviction on the second-degree murder charge or an alternative count of voluntary manslaughter, which carries a sentence of up to six years in prison. The maximum term for second-degree murder is 15 years.
The former officers were not jailed as they awaited trial.
Copyright 2016 The Associated Press