A good deed with tragic results: A view from the sidelines
---
Last week, Police1 reported that a woman committed suicide by shooting herself in the head with an Illinois police officer's gun while he was giving her a ride to the hospital. Stephanie Hicks, who suffered from bi-polar disorder, managed to get hold of the officer's gun from his holster and turn the gun on herself.
As I view this incident from the sidelines, I feel that several points need to be discussed that look at the wider issues that can apply to us all, no matter what the final investigation determines. Watch the video news report, then continue below for my thoughts on this matter.
First and foremost, this is a tragic story. It illustrates the need for officers to conduct a practical risk assessment even when assisting the public. The officer was trying to provide a public service to a person in need. This woman was obviously in a bad place. All people in crisis — whether mentally ill, under the influence of drugs and/or alcohol, or simply having a traumatic time in their lives — are potentially dangerous.
Using Jeff Cooper's Color Codes (see image below), an officer should be at Condition Orange — ready to act — when managing people in crisis. Crisis Intervention Training Tactics are important, but an officer needs to be constantly ready to shift gears to keep everyone safe.
Item number two: Weapon control is always critical, especially in close quarter situations like this one. Any person, any time can attempt to disarm an officer. In this case, the person turned the gun on herself. She could have just as readily turned the gun on the officer. An officer always needs to be ready for a disarming attempt.
Finally, this tragedy also demonstrates the need to transport a person in the back seat of a squad car. This person wasn't in custody but even so, the seat provides a barrier between the subject and the officer. This is true whether on not there is a protective barrier between the subject and the officer.
Distance buys an officer time.
No distance = no time.
Our thoughts go out to both victims of this tragedy — the woman who died and the officer. What the officer was trying to do was to just help a woman in need. We just need to make sure that we keep everyone safe in the process.
As Jack Hoban likes to say, officers need to be protectors. We must always remember that we need to keep ourselves physically, legally, and psychologically safe in order to do our job.
Protection begins with you.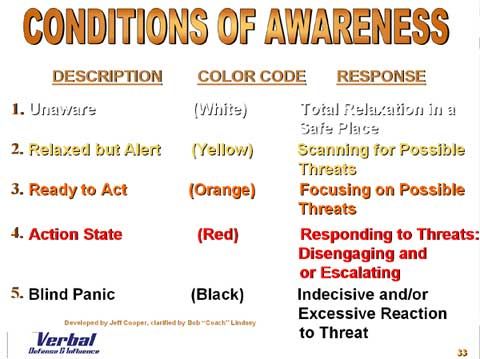 An officer should be at Condition Orange — ready to act — when managing people in crisis. (PoliceOne Image)