Suspect arrested for attempted murder of cop escapes building
Portland Police believe a cleaning crew accidentally opened the holding cell
---
By Maxine Bernstein
oregonlive.com
PORTLAND, Ore. — A member of a cleaning crew working in the Portland Police Bureau appears to have accidentally opened a holding cell on the detective floor that held a suspect in an attempted murder Saturday, allowing him to escape and race down the bureau's stairwell to an outside door on the south side of the building, police said Monday.
David Dahlen, the man wanted for ramming a Portland police officer while driving a stolen pickup Christmas Eve, fled from police custody about five hours after he was arrested Saturday.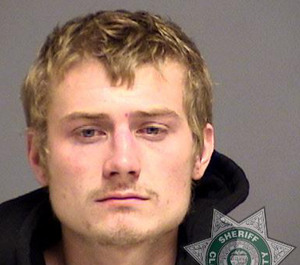 He hadn't yet been booked into the downtown jail when he was taken to the detective division on the 13th floor of the Justice Center for questioning about the Dec. 24 incident following his arrest about 1:30 p.m.
Deputy Chief Chris Davis said the bureau has had enhanced cleaning crews in the bureau focusing on high-trafficked and heavily-touched areas to help reduce the spread of the coronavirus.
"It looks like the cleaning crew opened the holding cell, thinking nobody was in there, and then noticed, 'oh, there's someone in there,' and shuts the door. But the door may not have latched all the way," Davis said.
The deputy chief said "the system failure" allowed for the escape, and the bureau will be examining how to prevent its reoccurence.
"We're looking at every weak point in that system to fix it and keep this from happening again," he said.
Detectives are supposed to check the holding cell every 15 minutes. When a detective noticed that Dahlen was missing, officers alerted everyone in the building by radio and it was locked down.
At first, the police thought Dahlen was still inside the building somewhere, but police soon learned from a review of video surveillance footage that he had exited out a side door.
"I don't know of a time where this has ever happened before," Davis said. He said the holding cell's door should automatically lock but it didn't.
One of the potential steps to avoid this from happening again might be as simple as putting a sign on the door that reminds anyone who opens it to "make sure this door is latched when you close it," the deputy chief said.
Dahlen had initially fled police on Dec. 24 after officers boxed in a stolen pickup he's accused of driving in the lot of a 76 gas station in Southeast Portland. Dahlen is accused of ramming the pickup into Officer Jennifer Pierce, who had stepped out of a patrol car that she left in front of the truck, a witness said. The stolen pickup then backed up and went forward again, striking Pierce's patrol car and pushing it forward as it peeled out of the lot. Pierce is accused of firing at Dahlen and the truck.
Pierce, a 15-year bureau veteran assigned to Central Precinct, was hospitalized for a pelvic fracture. She has since been released from the hospital, the deputy chief said Monday.
The stolen truck was found about an hour later on Christmas Eve, abandoned and unoccupied elsewhere in Southeast Portland. Police have said they believed there was a woman in the stolen pickup with Dahlen but have not said if any other arrest has been made.
Dahlen has seven prior convictions for unauthorized use of vehicles and three similar cases pending from this year.
Dahlen has three other unauthorized use of vehicle cases pending from this year: He's accused of using someone else's Ford Focus on Sept. 16 in Clackamas County; driving a stolen silver Nissan Altima on Oct. 27in Clackamas County and driving stolen silver Nissan Altima on Dec. 9 into a Motel 6 lot on Northwest Frontage Road in Portland.
After the Dec. 9 arrest, he was released on his own recognizance and given a future court date, according to court records.
Court records indicate he has been living off and on with his grandparents in Northeast Portland. After his early December arrest, he self-reported use of methamphetamine to court officials and said he wanted to undergo drug inpatient. His grandparents also expressed concern about him returning to their house and urged treatment for Dahlen, according to court records.
(c)2021 The Oregonian (Portland, Ore.)
McClatchy-Tribune News Service