How aerial imagery creates greater situational awareness for event response
Highly detailed maps help illustrate likely areas of vulnerability in and around venues
---
By Shelly Carroll
Law enforcement officials are tasked with the highly nuanced job of keeping communities safe, especially when it comes to planning for mass gatherings.
Whether it is crowd control and situational awareness when preparing for a presidential visit, marathon or festival, law enforcement officials work diligently to inform local residents of upcoming events and their impact on the city.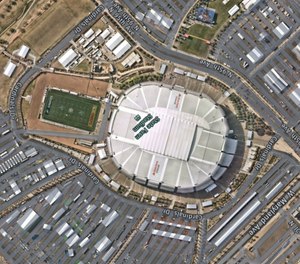 Ensuring they are equipped with the right technology to make this job easier and more impactful goes without question, which is where aerial imagery comes into play.
Front row seats
Law enforcement officials often spend several months working with event coordinators, pouring over logistics to plan for the setup of concerts and festivals, including stages, seating and vendor booths.
Aerial imagery puts coordinators and local police in the front row by laying out highly detailed maps that help illustrate likely areas of vulnerability in and around the venue, in addition to ideal points for setting up necessary resources like emergency medical response, information tents, bathrooms and security personnel. This ensures that events aren't just fun, but also a safe experience for attendees.
As with any large-scale event, there is an assumed level of risk that law enforcement must be prepared to address at a moment's notice. Personnel assigned to provide on-the-ground support for these events conduct proactive risk assessments of the grounds often developed based on the insights provided through aerial imagery. Combining those visual insights with geographic information systems (GIS) overlays, a computer system designed to capture, store, assess, and display data related to physical landmarks and resources allows officials to identify potential points of constraint. This can include too few entrances or exits that could create build-up in the flow of pedestrian traffic, uneven grounds for a stage or booths and footpaths which all ladder up to a more nuanced picture of the environment.
These technological capabilities, coupled with the presence and expertise of law enforcement, can amplify the potential to mitigate potential risks.
Crossing the finish line
Marathons are one of the most highly attended events in the country, attracting millions of participants and spectators annually. Given the size of the crowds – and the often-congested cities marathons take place in – local law enforcement has an expansive responsibility of safeguarding the well-being of runners, of onlookers and of those hoping to traverse the event without issue.
For example, the Boston Marathon typically results in proactive, widespread street closures and parking restrictions in the days leading up to the event. Aerial imagery insights take the guesswork out of these decisions because high-resolution images cover a broad scale to inform traffic control, efficiently directing vehicles and pedestrian traffic and the participants along the route. This creates a safer flow of movement for the public to enter and exit, and for emergency services to position resources appropriately if a rapid response is needed. While it's inevitable that such prominent marathons will lead to traffic buildup and pedestrian congestion, the use of aerial imagery can help keep runners' eyes on the finish line and onlookers safely cheering from the sidelines.
Running the play
Super Bowl LVII saw an estimated 72,000 sports fans travel from across the country to watch the Kansas City Chiefs go head-to-head with the Philadelphia Eagles. But off the field, law enforcement was focused on facing off against an entirely different opponent.
To efficiently welcome nearly 100,000 spectators into State Farm Stadium, law enforcement required a bird's-eye view of the premises to accurately pinpoint areas best suited for entry and exit, to manage traffic and parking, identify escape routes required for rapid evacuation, police patrol points and emergency health service booths. Extending far beyond the stadium, this technology also allowed law enforcement to enhance their situational awareness of potential traffic delays due to construction projects or road closures. Additionally, aerial imagery was able to capture on-ramps for the surrounding highways that might be bottlenecks for attendees, alerting law enforcement to areas where traffic congestion near the stadium could potentially build up.
The use of oblique aerial imagery provides a digital twin of an area, creating a virtual 360-degree view of stadiums and their surroundings, including buildings, landmarks and their sizes. This information directly benefits law enforcement's situational awareness by providing officials with data they can easily use to gauge the best vantage points and visual impediments, creating a deep understanding of the environment around them. 3D data even goes so far as to afford law enforcement the ability to train in a virtual rendering of the location, enabling them to repeatedly run their plays ahead of the big day.
Law enforcement agencies have a tall order to maintain high standards in every facet of their job. Preserving civilian well-being during special events represents a foundational aspect of the work that local agencies do in that respect. Event security requires levels of both breadth and precision greatly enhanced with the use of aerial imagery. As this technology continues to advance to meet industry needs, applications within law enforcement present limitless potential and possibilities.
---
About the author
Shelly Carroll, SVP and General Manager, Commercial and Public Sector, at Nearmap, can speak to the numerous use cases in which aerial imagery and location intelligence technology can help save lives when it comes to safer public events.