Poem: One Officer Down
Oregon police officer's poem shares the pain of losing a fellow officer in the line of duty
---
Calling all police poets! PoliceOne's new column highlights some of the inspirational, moving and funny poems authored by our readers.
"One Officer Down" is by Sgt. Tyler Reddington, who started his career with the Pendleton Police Department in Oregon just after he turned 21 in July 2006. Both his parents also served in law enforcement. His mom sent Police1 Tyler's poem, which he wrote after some traumatic incidents in his career. For Tyler, writing is a cathartic process that helps him get through difficult times as a law enforcement officer. 
Email your submissions for consideration to editor@policeone.com.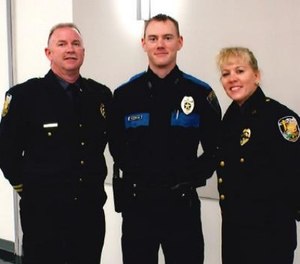 One Officer Down
A worn and tattered officer
Lies upon a table.
The man who cuts him open
Is searching for a label.
A label for the cause,
A manner for his death,
A scientific interpretation
Of the officer's last breath.
But what he'll find is staggering,
A tragedy at best.
For things are not as they seem
'Neath the badge upon his chest.
The first thing he'll notice
Are the fingernails full of dirt,
The scuff marks on his boots
And the sweat stains on his shirt,
The wrinkles by his eyes,
His sunburned left forearm.
He'll note his short crop haircut.
He'll sense his boyish charm.
And then he'll go to work.
He'll drill a little hole,
And get something he'd not expect
When he stares into his soul.
The answers that he finds
Are not common for the chore.
He's never seen a mess like this
In all the cuts before.
And the hours, they will wear
Away into the night.
But when the sun rises again,
He'll see the officer's fight.
His report will be released.
Every news station will post.
"Officer Down" seems to be
What the people want the most.
"This report contains my findings
Of how this officer died.
'Undetermined' is the cause,
No matter how hard I tried.
It could have been the years of smoke
Though he's never actually smoked.
It could have been the lump I found
That was building in his throat.
It could be all the names
He's been called by all the perps,
Who seem to also call the most,
Whenever their feelings get hurt.
His bladder was overflowing.
I guess he couldn't find relief.
Because he was comforting a battered woman,
Struggling with her grief.
And then he was called to a traffic crash,
A dog bite, then a theft.
By the time he finished his reports
I guess there was no time left.
It could be from the bruises
Of all those wild fights,
When he'd tangle with the criminals
Who thought they 'knew their rights.'
His guts were twisted into knots.
It was quite a crazy mess.
Perhaps from a molester
He'd listen to confess.
His lungs were nearly empty.
He plumb ran out of air.
Likely from chasing criminals
That you would never dare.
His heart was scarred, many times.
It's anyone's guess as to why.
It may be from the beaten kids,
Or all the people he's watched die.
It might be from that night
He wrestled with the man,
To cut the cord from 'round his neck
With a knife held in his hand.
It could be from one cold shift,
When he was nearly ground to tar 
By a kid with nothing else to lose,
Driving a stolen car.
It could be from the fellow officer
Whose life he could not save,
As he sat next to him and felt his blood
Dripping upon the pave.
It may have been all the pain he caused,
At home between his wife.
But it was hard to tell her everything
That happened in his work life.
Even so, before every shift
She'd tell him, "Please be safe!"
"Always" he'd reply to her,
And a kiss he always gave.
He knew the dangers that he faced.
Every time he wore that shield,
But worry he would not,
When he went into the field.
In concluding my report
On what brought the officer down,
If you think it's just one incident
I insist you look around.
Society is changing us.
A greater danger we now face.
We need these men and women of blue
To be our saving grace.
Remember this fallen officer.
Be proud and get behind
What's left of these noble warriors
Who make up the thin blue line.
And if you will not support them
From the brass down to the grunt,
If you will not get behind them
Then by all means, get in front."