170 arrests made after deadly biker gang shootout in Texas
Law enforcement remained on alert Monday after a deadly shootout between rival biker gangs shook up the community
---
By Nomaan Merchant and David Warren
Associated Press
WACO, Texas — About 170 members of rival motorcycle gangs were charged with engaging in organized crime Monday, a day after a shootout at a Texas restaurant that killed nine people and wounded 18.
The crowd of suspects was so large that authorities opened a convention center to hold them all before they were arrested, police said.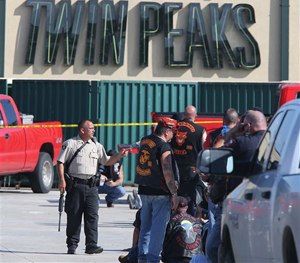 Sunday's melee at the Twin Peaks restaurant in Waco drew a broad police response that included placing officers atop buildings and highway overpasses to watch for other bikers rushing to the scene to retaliate.
McLennan County Justice of the Peace W.H. Peterson set bond at $1 million for each suspect. He defended the high amount, citing the violence that quickly unfolded in a shopping market busy with a lunchtime crowd.
"We have nine people dead, because these people wanted to come down and what? Drink? Party?" Peterson said. "I thought it was appropriate."
Peterson also performed inquests on the nine dead bikers but declined to identify them pending notification of family. Peterson says all nine were from Texas.
Police acknowledged firing on armed bikers. But it was unclear how many of the dead were shot by gang members and how many had been shot by officers.
Waco police Sgt. W. Patrick Swanton said the Waco Convention Center was used to hold the suspects temporarily as police rushed to secure many parts of the city amid reports of rival bikers going elsewhere to continue the fight. Those at the convention center were later taken to jail.
It's too early to determine how many motorcycle gang members will face murder charges, Swanton said.
Five gangs had gathered at the restaurant as part of a meeting to settle differences over turf and recruitment. Prior meetings had been held at the restaurant, and managers there had dismissed police concerns over the gatherings, he said.
"They were not here to drink and eat barbecue," Swanton said. "They came here with violence in mind."
Twin Peaks — a national chain that features waitresses in revealing uniforms — on Monday revoked the franchise rights to the restaurant, which opened in August.
Company spokesman Rick Van Warner said in a statement that the management team chose to ignore warnings and advice from the company, and did not establish the "high security standards" that the company requires.
The Texas Alcoholic Beverage Commission on Monday issued a seven-day suspension of the restaurant's liquor license, but owners had the option of reopening to serve meals.
Police and the restaurant operators were aware of Sunday's meeting in advance, and 18 Waco officers in addition to state troopers were outside the restaurant when the fight began, Swanton said.
Swanton has repeatedly declined to identify which gangs were involved in a fight that began with punches then grew to include chains, knives and then guns.
"I am not about to give them the respect of mentioning their names," he said.
However, many men detained in the hours after the shooting were seen wearing leather vests that read Bandidos or Cossacks.
McLennan County Sheriff Parnell McNamara, whose office is involved in the investigation, said the nine dead were members of those gangs.
More than 100 motorcycles were in the parking lots around the restaurant Monday, along with another 50 to 75 vehicles that probably belong to gang members, Swanton said.
All were scheduled to be towed from the scene, 95 miles south of Dallas.
Swanton said authorities had received threats against law enforcement "throughout the night" from biker groups and stood ready to confront any more violence. Officials stopped and questioned motorcycle riders. Agents from the FBI and the federal Bureau of Alcohol, Tobacco, Firearms and Explosives were assisting local and state authorities.
In a 2014 gang-threat assessment, the Texas Department of Public Safety classified the Bandidos as a "Tier 2" threat, the second highest. Other groups in that tier included the Bloods, Crips and Aryan Brotherhood of Texas.
The Bandidos, formed in the 1960s, are involved in trafficking cocaine, marijuana and methamphetamine, according to the U.S. Department of Justice.
The Bandidos conduct their activities as covertly as possible to avoid publicity, according to the DPS assessment. Members are not covert, however, about making their presence known by wearing their colors and insignia, and riding in large groups.
The Texas assessment does not mention the Cossacks.
There's at least one previously documented instance of violence between the two groups. In November 2013, a 46-year-old from Abilene who police say was the leader of a West Texas Bandidos chapter was charged in the stabbings of two members of the Cossacks club.
Copyright 2015 The Associated Press