L.A. raid targets Mongols motorcycle gang
---
Dozens are arrested on federal racketeering charges after a multi-agency investigation. Federal agents also want to seize the Mongols' insignia: 'We're going after their very identity.'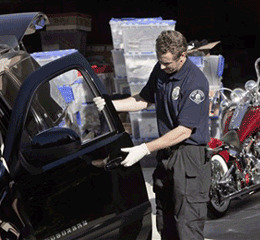 An investigator with the West Covina police examines a car at the home of Ruben Cavazos, former national president of the Mongols motorcycle gang. (AP Photo)
Related articles:
LE arrests 25 Calif. motorcycle gang leaders and associated

By Scott Glover
Los Angeles Times
LOS ANGELES — More than 1,000 heavily armed federal agents and local police fanned out across Southern California and cities in five other states early this morning, arresting dozens of members of the notorious Mongols motorcycle gang on federal racketeering charges.
But the most lasting blow to the San Gabriel Valley-based bikers may be down the road: In an unusual maneuver, the feds are also seeking to seize control of the Mongols' trademarked name, which is typically accompanied by its cherished insignia -- a ponytailed Genghis Khan-like figure riding a chopper.
U.S. Attorney Thomas P. O'Brien said if his plan is successful, the government would take over ownership of the trademark, and anyone caught wearing a Mongols patch could have it seized by law enforcement on the spot.
"Not only are we going after the Mongols' motorcycles, we're going after their very identity," O'Brien said in a telephone interview early this morning. "We are using all the tools at our disposal to crush this violent gang."
In addition to racketeering, the Mongols are charged with committing violent crimes -- including murder -- drug trafficking, weapons offenses and money laundering. They used guns, knives, brass knuckles, lead pipes and steel-toed boots to impose their will, often on rivals such as the Hells Angels, but also on unsuspecting members of the public who happened to cross their paths, according to a 177-page indictment unsealed this morning.
The indictment, the first three pages of which list 79 gang member defendants with menacing monikers such as "Monster," "Danger" and "Violent Ed," is drawn largely from the observations of four undercover ATF agents who infiltrated the gang and four current Mongols members who became paid informants for the government. Investigators also relied heavily on wiretapped telephone calls in which Mongols, usually speaking in coded language, discussed the gang's allegedly criminal operations.
The unidentified agents, who spent several years working to gain the Mongols' trust, were checked out by a private investigator hired by the gang and given polygraph exams before being formally admitted in 2007.
Though this is not the first time the ATF has penetrated the Mongols, having four undercover agents in the gang at once, coupled with the cooperation of four Mongols, provided authorities with a particularly broad view of its inner workings, officials said.
The Mongols were formed in the 1970s by a small group of Latinos who had been rejected from the Hell's Angels because of their ethnicity, as the story goes. The gang now has between 500 and 600 members, the vast majority of them in Southern California, according to law enforcement officials.
The gang has a constitution and bylaws and some of the trappings of more conventional organizations -- its members are provided Nextel phones, for example. Decisions regarding membership, dues collection and club policy are made by leaders known in the gang as the "Mother Chapter." They have a headquarters in West Covina stocked with assault rifles, shotguns and bulletproof vests, according to the indictment.
As with many organizations, patches are awarded to signify the status or achievements of its members, though the behavior celebrated by the Mongols differs from most. For instance, a skull and crossbones patch or one proclaiming, "Respect Few, Fear None," is given to members who commit murder or other acts of violence on behalf of the gang, according to the indictment. One member was given permission to have the gang's insignia tattooed on his head for having shot two members of a rival street gang last year, the indictment alleges.
There are also patches associated with the gang's alleged sexual rituals. Members are awarded wings of varying colors for engaging in sex acts with women at pre-arranged "wing parties," the indictment states. Members who have sex with a woman with venereal disease are given green wings; those who have sex with a woman's corpse are given purple wings, according to the indictment.
The Mongols fund their organization largely through the sale of methamphetamine, according to the indictment. Undercover agents documented dozens of alleged drug deals ranging in quantity from a few grams to half a kilo. Many of the alleged sales were made to undercover agents or confidential informants cooperating with authorities, the indictment states.
But violence seemed to be at the heart of the Mongols' existence.
One undercover agent said he was told early in his effort to infiltrate the gang that he "must be willing to kill and die for the Mongols if he wanted to join the organization."
Much of the violence described in the indictment involved clashes between the Mongols and their longtime rivals, the Hells Angels.
Mongols' members are accused of tangling with the Hells Angels at a Laughlin, Nev., casino in 2002, at a "Toys for Tots" motorcycle run in 2005, and at a Chuck E. Cheese in San Diego last year. Two Hells Angels and one Mongol were killed in the Nevada casino incident, the indictment alleges.
But the violence was not limited to disputes between warring gangs. Some attacks were motivated by race -- the mostly Latino gang is intolerant of African Americans, authorities say -- and some appeared random.
Two Mongols, known as "Villain" and "Danger," are accused of beating a man to death with a pool cue in a Lancaster nightclub on Valentine's Day last year because he had been badmouthing the gang. Another member is accused of shooting patrons of a Riverside bar and then trying to run them over in the parking lot, also in 2007. A Mongol known as "Dago Bull" told an undercover agent that he and two fellow Mongols tortured a man in 2006 by breaking his knuckles with pliers and one of his knees with a metal pipe. Another member boasted of having beaten a man so badly that he knocked out a tooth, which he kept taped to his microwave as a souvenir.
A Mongol known as "Monster" and two other members are accused of beating a black man at a Hollywood bar in 2006 while shouting racial slurs, the indictment states. Other members beat and repeatedly stabbed a Latina woman whom they saw in the company of a black man.
Those arrested are expected to make their initial appearance in U.S. District Court in Los Angeles this afternoon.
Copyright 2008 Los Angeles Times