iRobot to demonstrate multi-robot tablet controller at IACP
The uPoint MRC system simplifies robot operations such as driving, manipulation and inspection using intuitive touchscreen technology
---
By Police1 Staff
iRobot Corp. recently unveiled the uPoint Multi-Robot Control (MRC) system, a universal control system for iRobot's line of defense and security robots that will enable operators to manage the unmanned vehicles from an Android-based app.
The uPoint MRC system simplifies robot operations such as driving, manipulation and inspection using intuitive touchscreen technology, allowing operators to focus on the mission at hand.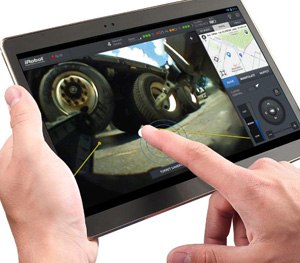 It's compatible with multiple ruggedized and consumer Android-based touchscreen tablets. 
Features of the new system include a virtual joystick to steer the robot, predictive drive lines for easier navigating, data sharing from the operator's controller to other team members or remote observers, video recording, and direct control of the robots' arms for simpler manipulation.
iRobot will be demonstrating the uPoint MRC system in booth #1526 at IACP.