Obama addresses race relations, gun reform, effective policing at IACP 2015
The president also took aim at the widespread negative media attention law enforcement has been subjected to
---

CHICAGO — President Barack Obama addressed the attendees at the 122nd annual International Association of Chiefs of Police Conference (IACP 2015) in a speech that called for admiration and respect for cops while acknowledging improvement was needed in race relations, the criminal justice system, and gun control.
"I want to be as clear as I can be — I reject any narrative that seeks to divide police and the communities they serve," the president said to heavy applause.  "Too often, law enforcement gets scapegoated for the broader failures of our society and criminal justice system."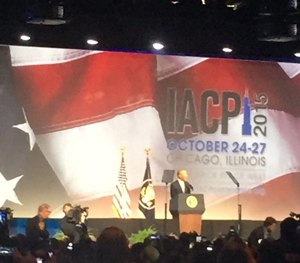 In an acknowledgment of the dangers cops face on patrol, the president opened his address with recognition of slain Officer Randolph Holder — whose funeral was held in New York Tuesday.
The president also took aim at the widespread negative media attention law enforcement has been subjected to, saying that the "countless incidents of effective police work" rarely make the news. 
The president's address predominately revolved around three calls to action: giving police officers the resources they need to "get the job done," criminal justice reforms to "make the system fair," and reducing the risks officers face in the field with "common sense gun reforms."
"Cops should not be out-armed by the criminals they are pursuing," Obama said. "Fewer gun safety laws don't mean more freedom, they mean more fallen officers."
The president's call for criminal justice reforms continued his push in recent months to bring attention to the number of non-violent offenders serving serious sentences in prison.
"It is possible for us to come up with strategies that effectively reduce the damage of the drug trade without relying solely on incarceration. And the reason I say that is because we see states and local police departments and law enforcement do it. States from Texas to South Carolina to California and Connecticut have already reduced their prison populations over the last five years and seen their crime rates fall," President Obama said.
He also called for police leaders to work on easing the tensions between minority communities and the police, saying the belief that law enforcement is not being applied fairly doesn't "come out of nowhere." 
"I refuse to believe that the only choice we have is to either ignore circumstances of racial bias or make it impossible for police officers to do their job. We have to reject that false choice," the president said. 
President Obama emphasized that successful community policing was a two-way street — and those in neighborhoods in desperate need of effective policing needed to give cops "the benefit of the doubt." He closed with the story of Tarrant (Ala.) Officer William Stacy, whose story went viral late last year after the officer bought a shoplifter groceries after she was caught stealing food for her hungry children. 
"That's America at its best. That's some good police work," the president said. "Let's keep pushing our world in the right direction."