How to build an LE mental health community response model
Collaborations between law enforcement agencies, mental health care providers and community-based stakeholders are transforming police response
---
ORLANDO — To safely and effectively respond to people with mental illnesses, law enforcement agencies are creating police-mental health collaborations (PMHC) among police departments, mental health care providers and community-based stakeholders.
To expand the knowledge base for law enforcement agencies interested in starting or enhancing a PMHC, the Council of State Governments (CSG) Justice Center, with assistance from a team of national experts and the U.S. Justice Department's Bureau of Justice Assistance (BJA), selected 10 police departments to act as national law enforcement/mental health learning sites. These sites represent a cross-section of perspectives and program examples, and are dedicated to helping other jurisdictions improve their responses to people who have mental illnesses.
During a session at the 125th International Association of Chiefs of Police Conference, representatives from CSG and BJA, as well as officers from two of the law enforcement/mental health learning sites, discussed how agencies can develop a PMHC framework to improve response to people suffering a mental health crisis.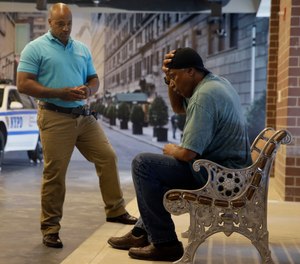 Participants
Brian Bixler, Lieutenant, Mental Evaluation Unit, Los Angeles Police Department
Richard Cho, Director, Behavioral Health Division, Council of State Governments Justice Center
Kristen Mahoney, Deputy Director, Policy Division, Bureau of Justice Assistance
Rebecca Skillern, Police Officer/Sr. Training Instructor, Houston Police Department, Mental Health Division
Quick summary
In recent years, law enforcement agencies have become the default responders to our nation's current mental health crisis. This has resulted in the number of calls for service for mental-health response increasing, with these responses often taking longer to resolve than other calls for service.
In Florida, one county found that 1 in 10 calls for service involves an individual with severe mental illness. In Madison, Wisconsin, behavioral health calls take 2 to 3 times longer to resolve than other calls, noted Kristen Mahoney, who serves as deputy director, policy division, at the Bureau of Justice Assistance (BJA). 
"One of the things we experience at the BJA is talking to people constantly about the same problems. So over the last six years we have developed practical resources you can pull right off the shelf and plug and play," said Mahoney.
BJA worked with the Council of State Governments (CSG) to develop the PHMC toolkit, which offers a collection of best practices for law enforcement to address police mental health collaboration and develop policy, training and guidelines.
"We work hard with law enforcement through the Major Cities Chiefs Association, PERF and IACP to figure out what types of training should be offered. It is not just crisis intervention training; there are all sorts of opportunities to enhance response to these calls and improve officer safety when responding," said Mahoney.
While BJA has funding available for LE-related training and mental health-response programs, it is not getting enough grant applications from PDs. "I think this might be because some of the programming looks like it is for the mental health system in your community," said Mahoney, "There are ways BJA can help agencies draft that grant application."
BJA will pay for agencies to visit one of the mental health learning sites, where if you see something of practical value to your agency, you can make a request to the Vera Serving Safely technical assistance center who will identify subject matter experts to parachute into your community at no charge to help you deliver similar solutions.
"What we have tried to do over the last six years is work to support cross-system collaboration. We want to work with counties to put together a linear, streamlined response to addressing these calls and resolving them. We also want to provide law enforcement with the opportunity to provide new and improved responses and we want to make sure that our diversion and reentry programs are supported by working with LE and not running off to the side in a silo," said Mahoney. "The answers are not in DC, the answers are with all of the policies and practices agencies are currently implementing."
6 steps to building an effective mental health response
Since establishing the mental health learning sites in 2010, BJA and CSG have been providing training and technical assistance through the sites for many different jurisdictions.
"This past year, we added four more sites and went from 6 to 10. One of the gaps we realized was that we didn't have as many smaller jurisdictions with 50 sworn officers or less, so we added Arlington, Mass., also Madison County, Tenn., Jackson County, Ohio and Tucson, Ariz.," said Richard Cho, who is the director of the Behavioral Health Division at the Council of State Governments Justice Center. "One of the key things we have learned from these learning sites is that they may have begun with a small program or training, but over the years they realized how much more they need to build in terms of systems."
Effectively building an LE mental-health response system involves six domains:
1. Leadership commitment
Key to the success of any new initiative is to have a leadership team that is fully committed to the program.
"There are a lot of jurisdictions where mental health response is the responsibility of a program manager or an officer, but if you go up to the level of captain or chief they are not as aware as to what is happening on a daily basis," said Cho. "In the 10 learning site communities, the leadership is fully committed which you see in the organizational charts and the way officers are recognized for performance."
Leadership support for the LAPD's mental health response program is visible in several ways, said Lt. Brian Bixler, who heads the department's Mental Evaluation Unit (MEU). 
"First, the program needs to be written into policy in order to ensure its longevity. It is much harder to end programs that are written into departmental policy," said Bixler.
How leadership handles personnel deployment is also a telling sign.
"Our department is going through managed attrition, which means the patrol force is depleted and currently being supplemented from different assignments," said Bixler. "I have 110 officers who work under me in the MEU, which is a lot of bodies, but Chief Moore has not touched them. We have proven the efficacy of our unit by showing how many patrol hours we save with the MEU."
2. Comprehensive policies and procedures
Agencies need written policies and procedures that outline what happens from the point of 911 dispatch all the way through to the disposition and follow up.
"We have everything written in policy, either general order or SOPs, for how officers respond and how the clinical people respond as well," said Rebecca Skillern, who is a trainer for the Houston Police Department's Mental Health Division.
3. Training delivery
While having quality evidence-based training is important, how that training is provided is also critical. Cho outlined areas to consider:
When is the training provided?
Is training only done with new recruits in the academy, or is it reinforced with training in the field as well?
How is that training reinforced and evaluated pre- and post-training?
"We are very clear with our personnel that we don't expect them to go out and be the street counselor. We want them to intervene in the crisis and then move them over to appropriate resources. We do a lot to educate our personnel on what hospitals can and can't do when officers take people in. We also provide training for hospitals on what LE is being trained to do and how they are expected to respond to officers when they bring folks in," said Skillern.
The LAPD offers a 40-hour Mental Health Intervention Training class. Currently 2,000 patrol officers have been though the program.
"At month 11 in the FTO program, new officers go through our 40-hour school," said Bixler. "We find that to be very effective as now they have been on some of those types of calls already, they can see how the training makes sense."
The LAPD training reviews the following areas related to mental health response:
Stigma reduction;
De-escalation and scenario-based training;
Resource allocation and legal issues;
"Not only are we putting all of our P1s through the training, we are putting all our training officers through it," said Bixler. "What we find is that the biggest transformation is with officers who have 20 years on. At hour 40 of the class, they are wiping away tears in their eyes; they say they wish they had the training 20 years ago. That is when you know you have made a difference."
4. Adequate services and support
It is critical to have an inventory of the services you need, said Cho. There are two broad categories:
Immediate crisis services: When someone experiences a mental health crisis, officers need to know where they can send that person other than booking them in the jail or sending them to the emergency department. Many communities have begun to develop crisis stabilization programs or crisis diversion centers that serve as a drop-off point and a place where people can get their mental health crisis stabilized over a 24-48 hour period before being referred to ongoing services.
Longer term services: Every LE agency has a set of high utilizers causing repeat calls for services. These individuals need more assistance than just a referral to the immediate crisis services. Having data that identifies those high utilizers helps to determine the type of long-term services needed in your community.
5. Data collection and analysis
Having a consistent mental health flag in your 911 dispatch data and in your RMS and LE data and having a way to track the calls all the way to disposition is critical, said Cho.
Once data is in place, agencies can then look at key measures that help define program success. Such measures could include:
Are we connecting people to care?
Are we reducing the number of repeat encounters?
Are we trying to minimize arrests?
Are we reducing the use of hands-on force for people with mental health needs?
Data is an important part of the LAPD's program where mental health calls are integrated into the agency's CompStat.
"Just like with a patrol division, I sit in front of the chief and talk about how many calls for service we went on, how many holds we wrote, how many hours we saved patrol and how many UOF instances we had. All that information comes from our triage desk," said Bixler. "It is in our policy that every time a call comes in that is coded as mental illness that our mental health desk is contacted to take a report, then the information goes into Compstat."
6. Ongoing program review
Long-term success of an LE agency's mental-health response program is determined by ongoing leadership engagement and a commitment to a continual process of improvement review.
"You need to have a quarterly meeting that looks at where you are with key metrics and if you are responding to these calls in a way that policies and procedures dictate. Then you need to ask, are there adequate services or are there gaps that need to be filled?" said Cho.
Learn more about mental health response program development