Panasonic is bringing a 'Toughbook Truck' to IACP to teach cops about FirstNet
The 40-foot truck promises an immersive educational experience
---
By Police1 Staff
You've been hearing about it for years, and now FirstNet is finally here.
There are plenty of educational initiatives to get police agencies up to speed on FirstNet adoption, but this one may be the most unique: Panasonic is driving a 40-foot truck across the country to offer police agencies an immersive educational experience on both FirstNet and their line of ruggedized laptops, according to a press release.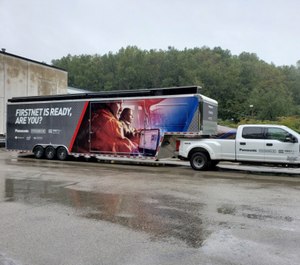 In addition to getting agencies up to speed on the public safety network, Panasonic representatives can also perform FirstNet service activations for agencies on site.
The truck will be making a stop at the 2018 International Association of Chiefs of Police Conference in Orlando. You can visit the company at booths #1527 and #327. You can also find a full list of Toughbook Truck stops here.