IACP 2022: A police physician's cautionary ketamine tale
Law enforcement officers and paramedics regularly encounter profoundly agitated patients and need the medications to treat those patients as well as the support of their organizations
---
DALLAS — EMS providers, police officers and emergency physicians have been targeted in the court of public opinion for administering ketamine, authorizing ketamine, or teaching ketamine administration.  
Paul Nystrom, an emergency medicine physician and Minnesota peace officer, presented his experience of being given an ultimatum to choose either emergency medicine or law enforcement to attendees at the International Association of Chiefs of Police conference.  
Nystrom began by talking about the decades of research on sedation, the ethics of patient sedation, the specific use of ketamine for pain control and behavioral emergency sedation in Hennepin County, Minnesota. He also talked about his training as a POST-certified police officer and teaching tactical medical care to cops. Subsequently, he traced the intersection of the increasing public and media interest in the use of ketamine in Minnesota and beyond with his work as an emergency medicine physician and medical director for the Minneapolis Police Department (MPD).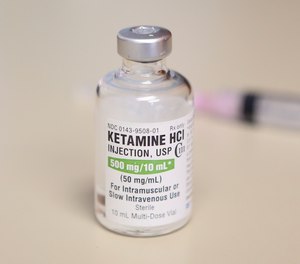 During the summer of 2021, Nystrom delivered a training program to the MPD about altered mental status. He described the content of the training program to attendees and the publication of a February 2022 media report scrutinizing the training. Despite adherence to current medical protocols, the inclusion of guidance from relevant professional organizations, and adjusting the training based on specific requests from the police department, Nystrom wasn't supported by the department, city government, or the medical center in the aftermath of media attention. He was eventually asked to choose between being a cop and an emergency medicine physician, but he couldn't do both for the employer as he had been doing.  
Memorable quotes from the presentation 
Though the session was about Nystrom's personal experience, it was also a discussion about profoundly agitated subjects, sometimes described as excited delirium and ketamine. Here are four memorable quotes from Nystrom: 
"When ketamine is the answer, it's the only answer. That doesn't mean ketamine is always the answer."  

"[I tell cops], if something about the patient is off, assume a life threat; start EMS early." 
"LEOS need to recognize severe agitation as a medical emergency."  

"Patients suffer without well-trained cops. We are not getting fewer behavioral emergencies." 
Top takeaways 
Nystrom continues to work in emergency medicine, provides EMS medical direction and is still a police officer in Minnesota. Here are four key takeaways from his IACP presentation.  
1. Emergency medicine, EMS and law enforcement intersection 
Nystrom discussed the many reasons there should be an intersection among emergency medicine, EMS and law enforcement. Here are a few of the areas where these groups intersect:  
Medical holds for people in crisis from mental illness or chemical dependency 

Reducing the risk of violence in the emergency department 

Legal matters involving patients, police and caregivers 

Improved care of sexual assault victims 
Ongoing research on agitation 

Better communication between EMS and LE 
Several factors, including the COVID pandemic, the murder of George Floyd, civil unrest and tension among organizational leadership strained the local connections among law enforcement, EMS and emergency medicine. Nystrom believes a changing political climate and shifting organizational cultures led to the ultimatum he was given.  
2. Use verbal de-escalation techniques before sedation 
In his local training sessions, Nystrom taught police officers the position of the National Association of EMS Physicians and other medical groups that de-escalation attempts should be used before sedation. But in instances of profound agitation, sedation is necessary. The instruction he was given was aligned with national information but not well-received by non-medical policymakers and stakeholders.  
Read NAEMSP Position Paper: Clinical Care and Restraint of Agitated or Combative Patients by Emergency Medical Services Practitioners. 
3. Ketamine treats profoundly agitated patients 
People who are profoundly agitated, putting themselves and others at risk of harm, need sedation. Ketamine is a rapid acting and effective treatment that has undergone an increasing amount of public and media scrutiny. During the presentation, Nystrom reviewed several ketamine research efforts and the misleading media coverage that led to litigation and an unfortunate decrease in communication between law enforcement and EMS.  
When law enforcement officers recognize an emergency that is out of their domain, they need to call for help: "If cops see a fire, they call the fire department," Nystrom said. A call for a fire department for a fire doesn't get any scrutiny. Police calling EMS for help with a profoundly agitated patient is the right thing for cops to do and should be supported.  
4. Agitated subjects are a problem lying in wait 
Regardless of whether you call them suspects or patients, the assessment, restraint and treatment of profoundly agitated people is a problem lying in wait for organizations, their frontline personnel and their partner organizations. Nystrom's experience is a cautionary tale for paramedics, emergency medicine physicians and law enforcement officers. Policy, training, remediation, discipline when indicated, incident debriefing and quality assurance are the best protection for individuals and organizations.  
Learn more about agitated subjects or excited delirium syndrome  
Nystrom's employers cited continuing to mention excited delirium in the course he taught as part of their critique. Though they disavowed the term, the organizations didn't give Nystrom, law enforcement officers or paramedics an acceptable term for patients experiencing the signs and symptoms of excited delirium syndrome. To learn more about excited delirium syndrome, read, watch or listen to this content from Police1, EMS1 and Lexipol. 
Police1 
EMS1
Lexipol