Escaped inmate suspected in killing near jail captured by Pa. police
Police caught inmate 26 hours after he fled a work-release program to kill an acquaintance nearby
---
Associated Press
KITTANNING, Pa. — An escaped inmate suspected of strangling an acquaintance and stealing a gun and two trucks while on the run led police on a chase and rammed a cruiser before being captured Friday, authorities said.
State troopers took Robert Crissman into custody about 26 hours after authorities said he walked away from a work-release program at a jail about 40 miles northeast of Pittsburgh, where he was serving time for a probation violation.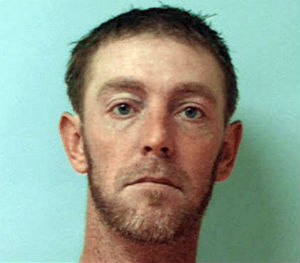 The body of Tammy Long, 55, was discovered Thursday afternoon at a home about a mile away from the jail in Kittanning. A coroner said Friday she was strangled and suffered blunt force trauma to the head.
Armstrong County District Attorney Scott Andreassi called Long's death an "incredible tragedy." He said Crissman's quick capture was a testament to good police work and strong cooperation from the public.
Police were alerted to Crissman's location at about 7:30 a.m. Friday by a 911 caller who said he knocked on her door seeking help, Andreassi said. The woman recognized Crissman from news coverage of the escape and refused to let him in.
Crissman, 38, fled in a stolen truck as police converged on the Boggs Township home, leading a 5- to 7-mile chase before he rammed the back of a state police cruiser and lost control of the truck, Andreassi said.
Crissman was treated for a hand injury and taken into custody at about 8:40 a.m., Andreassi said. He is being processed at a state police barracks and will be taken to a jail in a neighboring county.
He faces charges of homicide, theft, escape and aggravated assault for the collision with the police vehicle. Information on his lawyer wasn't immediately available. A lawyer in a previous case was said to be on vacation and unavailable for comment.
Crissman fled the jail around 6:30 a.m. Thursday while outside getting meals off a truck to deliver to other inmates, sparking a search that involved local authorities, state police and the U.S. Marshals Service.
"The doors were open so he could carry in meal trays, and he just walked away," Sheriff William Rupert said.
Long's boyfriend, Jerry Slagle, found her dead and his truck missing when he got home at about 2:45 p.m. Thursday, Andreassi said. Officials believe Long was killed after Slagle left for work around 7:30 a.m.
The couple knew Crissman but were unaware he'd just escaped from jail when they let him inside, officials and a neighbor said.
"They only knew him as a friend," Andreassi said. "They didn't even know he was in jail."
Crissman fled in Slagle's maroon 1999 Chevrolet Silverado extended cab pickup truck, authorities said. People in Pittsburgh reported seeing the vehicle Thursday night, but authorities said Crissman appeared to have remained within 10 to 12 miles of the jail.
The vehicle was spotted Friday morning in Boggs Township. Some 911 callers said they saw a man matching Crissman's description walking around with a gas can. Minutes later, he knocked on the woman's door seeking help. Andreassi praised the woman and a 911 operator for keeping her on the phone until police arrived.
Crissman had been in jail since July 24 for violating probation on a drug charge. There were no violent crimes on his record and he was trusted by staff, officials said.
Barry Crytzer said he hired Crissman off and on over the past year as a handyman performing yardwork and maintenance.
"He was a very nice guy," Crytzer told the Pittsburgh Post-Gazette. "This all seems really out of character from the guy I knew. He seemed like a pretty passive guy."
Copyright 2015 The Associated Press