How law enforcement can combat the sex trafficking trade
Trafficked individuals can prove to be a great resource if handled kindly and with finesse
---
By Mitzi Perdue and Wallace Zeins
More than 40 million people around the world are victims of human trafficking according to a 2017 report by the Walk Free Foundation. Of those, at least 71% are women and girls, with a majority of them experiencing sexual exploitation such as forced prostitution.
What can law enforcement professionals do to combat this? Let's look beyond the statistics to see what it was like for one young woman who was trafficked and sexually exploited.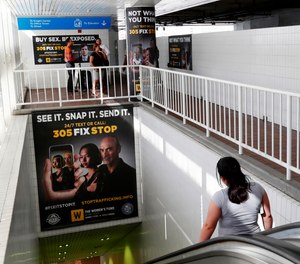 "Mindy" was lured into the sex trade by a trafficker who used harrowing psychological and physical methods to control her and keep her involved. (Although this story focuses on a female, males are also trafficked.)
But there's another way a law enforcement officer can look at Mindy or any sex-trafficking victim who has been arrested for soliciting or another crime: Any person in Mindy's situation might become a valuable resource in taking down a trafficker or a trafficking ring.  
Mindy's story
Mindy comes from Brooklyn, New York. When she was 14 years old, she met a cute guy at the local mall. She thought Darnell was cool and fun. Best of all, even though he was older, he took an interest in Mindy. He seemed to understand the problems she was having with her mom, and he was kind and sympathetic. And, let's not forget, he was cute.
They were soon texting 20 times a day. But there was a problem. After a couple of weeks, Darnell wanted sex. Mindy told him emphatically: "I'm a religious girl. I love you, but I can't do this!"
He insisted, saying, "If you really loved me, you would." Deliriously in love, she eventually gave in.
"I thought we'd be together forever," Mindy remembers. "I thought this would seal the deal." 
Change and desperation
Soon after they had sex, Darnell stopped answering her texts. Mindy was only 14 and this was her first love. She couldn't believe the man she thought she loved more than life itself had stopped communicating with her.
"I was only a little girl," Mindy recalls. "I didn't know any better, so I went back to Darnell's place and I pleaded with him. I told him, 'I'll do anything, anything if only you'll keep loving me.'" 
Darnell explained that if she wanted to stay with him, she'd have to "do some things."
Mindy soon found out that the things she had to do included helping with the rent and other expenses. She learned that some of Darnell's friends would pay her to have sex with her, and her job was to turn the money over to Darnell. 
Soon Darnell wanted her to do more than have sex with his friends. He began insisting that she go out on the streets each night and earn a quota of $500, then give the money to Darnell. If she didn't meet her quota, he would beat her. Darnell also threatened that if she tried to leave, he'd kill her mother and her little brother.
'Romeo' shows his real face
Four other girls were part of what Darnell referred to as his "stable." If any of them didn't hand over the quota for a night, Mindy knew what to expect. She had seen what Darnell did to her roommate, Venus. Mindy had watched in horror as Darnell punched Venus in the jaw so hard that the girl was drooling blood. She then saw him elbow Venus in the belly – hard. As the girl crumpled to the ground, she clutched her abdomen as if her guts might spill out.
Mindy was always afraid of violence. But that wasn't the end of Mindy's nightmare. Bit by bit, Darnell obliterated Mindy's self-respect
She was forced to have sex with different men seven or eight times a night; once, she was raped by five men. She cried and begged them to stop, then suddenly she felt numb. She said she couldn't feel them and then couldn't feel anything at all. It was if she had died.   
She began thinking of herself as an object with no human value. Sure, Darnell protected her in the sense he wouldn't let any of the johns beat her up, but Mindy knew that wasn't because he cared about her. He protected her solely because she was a source of income. The man she once loved treated her and his four other girls like cattle.
The Breaking Phase
Mindy was now in "the Breaking Phase." Behavior such as Darnell's is part of a pattern," according to Jeff Tiegs from the Guardian Group anti-sex trafficking organization: "The cycle begins with assessment and recruitment, it moves to grooming, and then after this comes the breaking phase. After the victim is successfully 'broken,' he or she will move into the maintenance phase with the ultimate goal of the trafficker having his victim on 'automatic.'"
As part of the breaking phase, clients demanded Mindy fulfill demeaning fetishes. The young woman's life had become an unending nightmare. She was sleep-deprived, terrorized, and Darnell made sure she developed such a low opinion of herself that she thought she deserved the treatment she was getting.
Mindy breaks free
Mindy escaped from Darnell after a year, but almost a decade and a half after her escape, she is unable to remember all the details. She does recall being somewhere in New Jersey, but she doesn't know how she got there. She also remembers that she had just enough money in her pocket for bus fare to Manhattan's Port Authority. She arrived there, beaten, sick and, most of all, numb.
Everything changed when a police officer saw her. He had seen other young women like Mindy and knew exactly what had happened to her. He returned Mindy to her mother, but her mother was horrified at the beaten, broken streetwalker that her daughter had become. Her mother couldn't handle this emotionally, so the police officer found a shelter for Mindy.
He took her to Girls Educational and Mentoring Services (GEMS), a nonprofit that assists to sexually exploited and trafficked girls and young women. For the next four years, Mindy was with people who helped her recover. They helped her medically and psychologically, plus helped her get her GED. She said one of the most important parts of her recovery was that she got to see women who were once in her situation had built normal lives for themselves.
Today, if you were to see Mindy, who's now 28 years old, you'd see a well-groomed, attractive woman. She has a job, she's a warm and likable person, and she gives off every vibe of having it all together. She's proof that with the right help, victims can achieve something close to a normal life.
But what would have happened if that law enforcement officer hadn't found her and understood what was going on in her life?
Her life expectancy would have been short. Statistics from the Ark of Hope, an anti-child-trafficking organization, show that within seven years, people in her situation have a good chance of being dead. They might die from suicide, overdose, disease, or violence.
Taking action against sex trafficking
As a law enforcement officer, you want to serve and protect. It's a good bet you're outraged that this kind of thing is going on. What can you do?
Look at the individual not just as someone who is a victim and who may have committed a crime. Instead, think of her as a valuable resource. Your goal is to gain information so you can take down her trafficker. Even better, there's the possibility she could lead you to a large trafficking ring controlled by organized crime.
People who study the economics of trafficking say that one of the forces that keeps trafficking going is that the traffickers feel they can do it with impunity. Law enforcement, however, has the potential for making it more "expensive" for them to be in this line of work. Where law enforcement can make a dent in trafficking is by raising the price the trafficker has to pay to stay in business. The more expensive it is for him or her to traffic, the lower the incentive to do it.
Persuading a trafficked person to cooperate
As you may have experienced, a trafficked person may not be eager to talk. For one thing, she may be afraid of talking because once she's back on the street, her trafficker will beat her.
The process of getting a trafficked person to open up will be slow and difficult. She will feel negatively about you and everyone else who had anything to do with her being arrested and locked up. But keep in mind that the possibility of taking down the sex-trafficking operation and arresting the perpetrators is worth the effort.
Here are five techniques for working with sex-trafficked individuals:
To establish trust, you need complete honesty. Remember these people are streetwise and will know when you're lying to them (you will lose trust and valuable time from the investigation).
Tell them exactly where you're coming from (that you want to help them, plus arrest the traffickers and shut down their operation).
Talk with them in a room suited for juveniles or special victims, as opposed to the trauma-inducing adult booking rooms where perpetrators are being held in lockup cells. The room should have a friendly, comfortable environment. Remember to let the victim know that you will have your partner with you in the room taking notes and recording the interview. Your partner should be introduced before the interview.
Be a good listener. Remember to always look at the victims as they speak.
Use calming phrases such as "I understand," "You're right," "I agree with you" and "Let's talk about it".
Understand going in that this interview (remember this is not an interrogation) and getting information will take time, trust and a lot of patience. The interview could take hours or even days. Remember these five important elements for a successful interview:
Make the interviewees comfortable and relaxed.
Let them talk first.
Ask questions.
Take breaks.
Regroup and summarize the important facts of the interview.
Always keep in mind that a trafficked individual is a priceless source of information; getting the evidence requires all of the investigative knowledge, work and skill you have developed throughout your career.
Note: The woman in this story is known to one of this column's authors, but her name has been changed. While each trafficked person's experience is different, "Mindy's" experience is representative. 
Resources
---
About the authors
Mitzi Perdue is the organizer of the Global Anti-Trafficking Auction. One of the things she's most proud of in life is having twice been the commencement speaker for Maryland's Wor-Wic Community College Criminal Justice Academy. For more information, visit www.WinThisFight.org or contact her at Mitzi@MitziPerdue.com.
Wallace Zeins is a former detective sergeant, New York City Police Department. Zeins served as commanding officer of Detective Borough of Manhattan Night Watch, where he supervised all major crimes in the borough of Manhattan. Zeins also was the Citywide NYPD Supervisor of the Hostage Negotiation Team. During the World Trade Center attack in 2001, he was designated commanding officer of the NYC Police Department Hostage Negotiating Team. He also is a graduate of the FBI National Academy. Zeins holds an MPS from Long Island University and a bachelor's degree from Hofstra University.