LASD sheriff orders deputies to obey watchdog request to reveal gang tattoos
"We are all a part of an honorable profession, and it is our individual and collective duty to seek the truth on all matters,"" the sheriff's email said
---
By Keri Blakinger
Los Angeles Times
LOS ANGELES — Less than a week after the county watchdog ordered dozens of deputies to show their gang tattoos and answer questions about violent cliques within the department, Los Angeles County Sheriff Robert Luna on Thursday sent a department-wide email commanding his staff to comply with the inspector general's request.
"Please be advised that all Department personnel who received such a request are hereby ordered to appear and cooperate in such interviews," Luna wrote in the firmly worded email. "All statements made by Department personnel shall be full, complete, and truthful statements."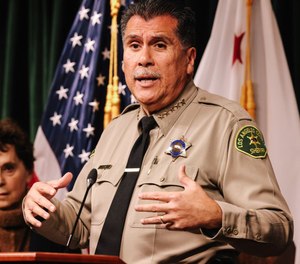 Any employees who obstruct or delay an investigation, the email went on to say, could be disciplined or fired under current county policies.
Luna's response represents a major shift from the prior administration, which was often at odds with oversight officials and consistently resisted outside investigations. Before he was voted out of office last year, former Sheriff Alex Villanueva defied subpoenas from the Civilian Oversight Commission, banned independent oversight investigators from department facilities and databases and made Inspector General Max Huntsman the target of a criminal investigation.
Huntsman — who signed the 35 letters sent Friday to deputies suspected of sporting Banditos or Executioners gang tattoos — lauded the change of direction that Luna's email represents.
"We appreciate the support of the sheriff and look forward to continuing with our investigation," Huntsman told The Times.
The aim of that investigation, Huntsman said, is to develop a list of everyone in the Sheriff's Department who belongs to a deputy gang. He planned to begin by interviewing 35 suspected members of the Banditos, who operate out of the East L.A. station, and the Executioners, who operate out of the Compton station.
In the letters his office sent last week, Huntsman ordered deputies to show him their tattoos and give up the names of any other deputies sporting similar ink. He also said he would ask deputies to tell him whether they'd ever been invited to join a group related to their tattoos, whether they knew of anyone in the Executioners or the Banditos and whether they'd seen anyone with either gang's characteristic tattoos.
The letter only laid out one acceptable reason for refusing to answer questions: the 5th Amendment. Unless deputies asserted that answering questions could incriminate them, Huntsman's letter warned that refusing to answer questions could "adversely affect your employment with Los Angeles County or your status as a peace officer."
Before Luna fired off his Thursday morning email ordering his deputies to comply, the unions representing rank-and-file deputies put out mass texts and Facebook posts telling their members to call the union before responding to the inspector general's letter.
One union — the Association for Los Angeles Deputy Sheriffs — also sent a message to its members, advising anyone who received a letter from Huntsman's office to respond only by sending an ALADS form letter to their supervisor, describing the OIG letter as a "threat" and asking for direction as to whether deputies should actually respond to it.
After Luna's Thursday morning email, union officials said they "remained concerned" about Huntsman's investigative approach.
"We'd like to think the basic rights afforded individuals by the Constitution don't vary from profession to profession," said Richard Pippin, ALADS president.
In addition to ordering cooperation, Luna's letter also acknowledged that some deputies might have further questions about the nature of the OIG probe.
"This investigation, however, is being conducted by (OIG) and it would be inappropriate for the Department to speculate on matters within the purview of a separate entity. Labor or legal representatives are better equipped to address such specifics," he wrote in the email.
"The privilege of serving in the law enforcement community is one that we cannot take for granted," the Luna email continued. "We are all a part of an honorable profession, and it is our individual and collective duty to seek the truth on all matters. This is especially true for an investigation that seeks to uncover issues within our own Department."
Whether Luna's order to cooperate will actually make a dent in the department's gang problem remains to be seen. Some — including attorney Vincent Miller — were dubious Thursday.
"The Board of Supervisors, the Civilian Oversight Commission, the inspector general, all say they want reform, and to end deputy gangs, but this has been the talk for four years," he told The Times. "So we all should be skeptical that this effort by the OIG will go anywhere."
Miller has repeatedly sued the Sheriff's Department and is currently representing eight deputies who filed an $80 million lawsuit alleging they were attacked and harassed by Banditos deputy gang members in connection with a 2018 off-duty incident at the Kennedy Hall event space.
"There is tremendous push-back within LASD against Sheriff Luna," Miller continued. "And he won't be able to overcome that to make lasting, meaningful change as long as the county keeps talking out of two sides of its mouth."
Stephanie Luna — whose nephew, Anthony Vargas, was killed by deputies in 2018 — offered similar skepticism. She is not related to the sheriff.
"I'm super-grateful the OIG is doing this investigation and I'm trying to be optimistic," she said. "It's just, what is this going to do? What is going to happen if these deputies show up lawyered up and plead the 5th?"
Unlike his predecessor, Luna has acknowledged the existence of deputy gangs and publicly said he wants to end them. And he has now ordered his deputies to cooperate with the OIG investigation.
But several oversight officials pointed out during a meeting Thursday that he has not yet formally accepted any of the 27 recommendations to eradicate deputy gangs that were proposed more than two months ago by the Civilian Oversight Commission.
_____
©2023 Los Angeles Times.
Visit latimes.com.
Distributed by Tribune Content Agency, LLC.
McClatchy-Tribune News Service