New NYPD unit will target and prevent extremism
Officials say the Racially and Ethnically Motivated Extremism squad is 'essential' to prevent events like Tuesday's shooting in Jersey City
---
Rocco Parascandola
New York Daily News
NEW YORK CITY — The NYPD has formed a new unit to stop hate crimes before they happen, police said Wednesday.
The Racially and Ethnically Motivated Extremism squad, or REME was put together earlier this month to monitor and prevent extremist driven violence - like the bloodshed inside a Kosher supermarket in Jersey City on Tuesday that left three innocent people and two shooters dead. One of the suspects was linked to the Black Hebrew Israelites, which is considered a hate group by the the Southern Poverty Law Center.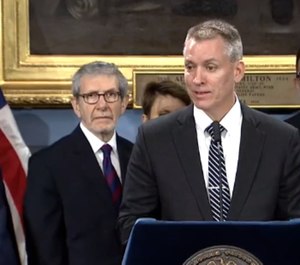 Hate crimes in the city are up 21% in the city as of Sunday, police statistics show.
Police Commissioner Dermot Shea said the NYPD's Hate Crimes Unit is largely reactionary, with its members responding after a crime.
REME, he said, will examine "what can we do with hate that hasn't risen to an individual act yet" and also work on prevention.
Deputy Commissioner of Intelligence and Counterterrorism John Miller, said the unit was formed after a spate of hateful violence across the country last summer. More and more of that violence began as hate speech online, Miller said.
"The idea," Miller said, "is to have the intelligence, use the analysis, and then execute the prevention which is the key."
Anti-Semitic crimes are up 22% in the city this year with 214 incidents, compared with 176 reports in 2018, according to police statistics through Sunday. A large chunk of those are graffiti or vandalism, cops said.
Mayor de Blasio said the new unit is essential.
"What we saw yesterday was a premeditated anti-Semitic hate crime," de Blasio said.
"In other words you can say it was an act of terror."
McClatchy-Tribune News Service