Not so neighborly conduct
Several incidents of vandalism and a victim at breaking point serves as a reminder of the value of persistence in policing
---
When supervisors and leaders retire, they take with them decades of accumulated skills, experience and patterns of thinking about how things get done – also known as "institutional knowledge" – that may not be passed along. To collect that information, Police1 has created the Institutional Knowledge Project to create a repository of lessons learned around the management of people, policy, training, supervision and discipline that can be applied by future generations of police supervisors and leaders when handling similar situations.
To participate in Police1's Institutional Knowledge Project, click here. Questions? Email editor@police1.com.
What happened?
I was a retired annuitant and employed to conduct theft-related and low-level crimes for a municipal police department. A vandalism report was assigned to me that involved "slashing" to the victim's rear tires. I called and spoke to the victim who seemed less than pleased with our service based on his comment, "You won't do anything if I told you who I believe is responsible anyway."
I asked him to give me a chance and he told me that nothing had been done after he had made prior reports of vandalism. This one was disturbing because he felt the vandal had jeopardized his wife and daughter's lives by specifically damaging the rear tires. He went on to say that he believed his neighbor was responsible because of parking issues in their cul-de-sac and the fact that the neighbor had continuously complained about people parking alongside the curb he believed was his domain.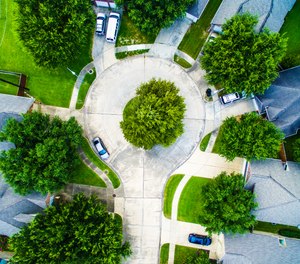 Compounding the issue was the fact the victim and his family had moved to our jurisdiction based on the safety of the community and the respect for law enforcement. He had an autistic daughter and he explained that her home care provider and teacher would visit up to four times a week and their cars were also vandalized when they parked in front of the neighbor's home.
I could sense the victim was at his breaking point so I promised to follow up and try to get him some relief through a proper and dedicated investigation. I did a database search of the victim and found three other vandalism reports. Each one had been suspended with no follow-up and no one had contacted the lead in the case, the aforementioned neighbor.
A database check on the neighbor didn't reveal any remarkable information so I did a neighborhood canvass that resulted in several people in the cul de sac describing the lead as someone who wasn't friendly and they would not be surprised if he was responsible because his sons were also uncivil and had caused problems in the past.
My efforts to contact the lead neighbor were fruitless as he avoided returning calls or answering the door. I had surveillance cameras installed and pointed at the victim and the lead neighbors house/curb and after two weeks, that also became a dead end as nothing of interest was captured.
Karma played the biggest factor as some or most of us with over 30 years will tell you, "What goes around, comes around." Fittingly, the lead neighbor was contacted after a simple assault where he attempted to strike a man through an open window after a traffic-related matter. The lead neighbor hit the victim as he sat in his car after dropping off his children for school. A 911 call was made and both the victim of the assault and the lead neighbor were still on scene as the unit was dispatched to the call was there within seconds. The responding officer (another veteran of over 25 years at the time), took a detailed report with victim, witness and suspect statements and he remembered my investigation involving his suspect as my lead in the vandalism case. He appropriately forwarded his simple battery case to me.
How did you handle the situation?
I continued to call the suspect/lead on the case(s) and left messages that with the battery report and possible conviction, he would have to forfeit all of his firearms if convicted and there may be a prohibition for firearm ownership for up to 10 years.
His lawyer subsequently called me to inform me that he would not allow his client to talk to me but that he wanted to know the merits of all the case(s) and my intentions. I told him that I had an appointment with the filing deputy DA and that I would seek charges on his client with most likely a Notice to Appear if filed successfully. The lawyer thanked me and told me that his client would be on his best behavior.
At filing, the deputy DA was less than enthusiastic, but he chose to file the assault with instructions to the assigned attorney to seek the penalties associated with a conviction.
Looking back, was there anything would you have done differently?
Possibly a little more persistent with the lead along with emphasizing reminders to officers at line ups that each report, no matter how little, means something to the victim and there may be more we can do by just asking the victims a few more questions or engaging in a discussion.
What lesson did you identify from this situation?
Remember the golden rule, treat others as you would want to be treated.
To participate in Police1's Institutional Knowledge Project, click here. Questions? Email editor@police1.com.