NYPD commander's 'threat' to shoot 50 Cent leads to investigation
A commander's statement that an officer should shoot rapper 50 Cent on sight has led to an internal investigation
---
Thomas Tracy , Rocco Parascandola And John Annese
New York Daily News
NEW YORK — A Brooklyn precinct commander's statement that cops should shoot rapper 50 Cent on sight startled the officers in his command, leading one cop to write a text message about it that sent other officers buzzing.
"The inspector just said at roll call if u see Kurtis Jackson (aka 50 Cent) shoot on site … I'm like wtf," the officer wrote on June 8, according to a copy of the text obtained by the Daily News. 50 Cent's full name is Curtis Jackson.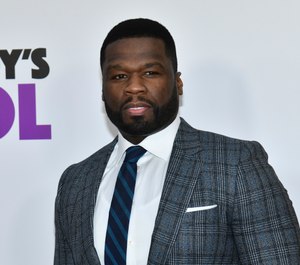 The cop didn't think anyone at the roll call recorded Deputy Inspector Emanuel Gonzalez's now-infamous remarks, and added, "he said it as a joke."
Nevertheless, word of the 72nd Precinct commanding officer's alleged June 7 comment made its way to One Police Plaza, leading NYPD brass to open an internal investigation, police sources said.
The officer who sent the text declined comment Monday.
Since the Daily News first reported the investigation, the rapper and actor took to Twitter and Instagram blasting Gonzalez, calling him a "Gangsta with a badge." He called out Mayor de Blasio in a Tweet, telling Hizzoner, "This piece a s—t Deputy Inspector Emanuel has to be dealt with. He is a embarrassment to Law Enforcement's."
The mayor had no comment, citing the Internal Affairs Bureau investigation of the alleged threat that dates to last June, when Gonzalez had an ongoing beef with the rapper, whose given name is Curtis Jackson.
Gonzalez allegedly made the threat when 50 Cent was expected to attend an NYPD sanctioned boxing match, or "smoker," in the Bronx.
A month before the roll call, Gonzalez filed an aggravated harassment complaint, claiming 50 Cent threatened him on Instagram.
The rapper was commenting on a lawsuit accusing Gonzalez of shaking down the owner of the now-shuttered Sunset Park club Love and Lust, one of his favorite night spots, and wrote, "Get the strap," a slang term for "get a gun."
That lawsuit sparked a flurry of text messages from a detective's union official, who said in May, "this is all bad for him (Gonzalez). They've been relentless with trying to close this place down and no one would be surprised because he's completely obsessed with Puerto Rico."
Gonzalez is being sued by the club's owners for demanding 11 "free" round-trip tickets to Puerto Rico and a generator for a doctor after Hurricane Maria devastated the island. The precinct then slammed the club with violations, leading to its liquor license being pulled, the lawsuit alleges.
In the complaint he filed, Gonzalez said several of 50 Cent's 18 million followers responded with their own threats against the precinct leader, including "F--k this commander" and "Blast this fool" — leaving him "in fear of his safety."
The rapper ultimately took down the Instagram post. The department investigated Gonzalez's complaint, but no charges were filed.
His duty status has not changed, pending the outcome of the IAB investigation.
Regardless, Gonzalez could soon find himself named in a lawsuit.
"I take this threat very seriously," the rapper said on Twitter, "and I'm consulting with my legal counsel regarding my options moving forward."
———
©2019 New York Daily News
McClatchy-Tribune News Service