San Diego police view footage in officer killing
The city's police chief said that she has yet to determine if the shooting was similar to recent targeted attacks on LE
---
By Elliot Spagat
Associated Press
SAN DIEGO — Investigators viewed body-camera footage to learn how one San Diego police officer was killed and another seriously injured in a gunbattle during a traffic stop. But the city's police chief said that she has yet to determine if the shooting was similar to targeted, premeditated attacks on police in other parts of the country.
Chief Shelley Zimmerman and Mayor Kevin Faulconer visited briefly with the wounded officer, 32-year-old Wade Irwin, at the hospital on Saturday morning, but investigators were still unable to interview him after surgery. Zimmerman reiterated that Irwin was expected to fully recover, and Faulconer said the nine-year veteran of the force "looked good, all things considered."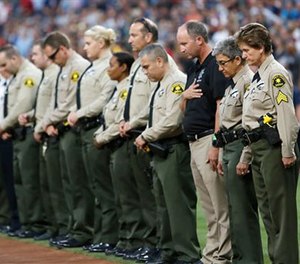 Zimmerman didn't say what the police body camera footage showed and declined to comment on other aspects of the investigation, saying lots of ballistics, forensics and other evidence had to be processed. She stopped short of tying the shooting to killings of officers this month in Dallas and Baton Rouge, Louisiana, which have put police departments on high alert across the country.
"Until more information becomes available, we're not going to tie it to anything else," Zimmerman said at a news conference at UC San Diego Medical Center, where Irwin is recovering. "I want to be clear. We're not making any correlation. We just don't know yet."
The officers, members of an anti-gang unit, were uniformed, wore bulletproof vests and drove a marked car. Zimmerman said Saturday that it was still unclear if they stopped for pedestrians or motorists in the blue-collar neighborhood of southeastern San Diego.
The mayor and police chief also visited Saturday with the wife and two children of Jonathan DeGuzman, 43, the officer who died in Thursday night's shooting after surviving a stabbing 13 years earlier while on duty. The 16-year veteran of the force had been stabbed in the right arm in 2003 after pulling over a driver for speeding, and he shot the aggressor in the hip after the man tried to stab him again.
Zimmerman, who worked with DeGuzman before she was elevated to chief in 2014, said she informed DeGuzman's wife 13 years ago that he survived the stabbing. DeGuzman received the department's purple heart for valor in that traffic stop.
"I was able to at that time tell his wife that he was going to be OK and, as I was driving over there that night, I knew I was going to have to make the notification that he was not going to be OK, he was not coming home, and nothing prepares you for that," Zimmerman said.
Jesse Gomez, 52, was arrested on suspicion of murder and attempted murder after he was found in a ravine almost immediately after the shooting, suffering from a wound to the chest. He is expected to survive.
Police have given no further information about Gomez or a man they describe as a second "potential suspect," Marcus Cassani, who was arrested Friday on an unrelated warrant after a massive search that included SWAT officers swarming around two San Diego houses. Police have yet to definitively link Cassani, 41, to Thursday's shooting, Zimmerman said Saturday.
An Anaheim, California, man who identified himself as Cassani's father on Saturday handed the phone to his daughter, who said it was ongoing investigation and that the family had nothing more to say. She didn't identify herself further and hung up.
Copyright 2016 The Associated Press