10 ways patrol officers can help the K-9 unit
Your police K-9 unit is rolling to your location to assist in locating a suspect. Follow these steps for mission success
---
This article is reprinted with permission from Calibre Press
By Art Carlos
The call's hot. The perimeter is tight. The channel is secured. The K-9 unit is logged on and is rolling to your location to assist in locating a suspect.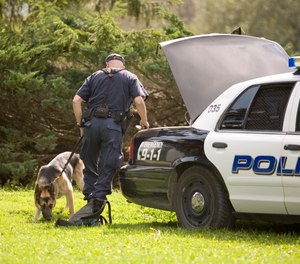 Here are 10 things you can do to increase your success when the police K-9 team shows up:
1. Confirm the criminal elements early
Identify the factors that fall within your or the assisting agency's K-9's use-of-force policy. Do you have a qualifying felony crime vs. violent misdemeanor crime? Has physical force been used or does the suspect(s) have qualifying violent criminal histories? Are weapons suspected? Does the suspect being sought, if you know they're ID, have a violent history? Being able to accurately and succinctly answer these over the radio will help your K-9 officer to respond better.
2. Containment – area security
Is the location to be searched able to be secured from innocent bystanders and can you isolate the ingress/egress to the area being searched? Does the area have domestic or feral animals? Some dogs simply aren't able to work houses or areas where specific critters may be such as domesticated rats, snakes or chinchillas. Can you lock down the building or location?
3. Familiarize yourself with how the K-9 team works. 
Does your K-9 team work on-lead or off-lead in various search conditions? Are you working with a young "hot" Malinois or an even-tempered "seasoned" Shepherd? Do you know what language the handler uses for commands and do you know a couple of key commands for that specific dog? What happens if the handler were to get injured or go down? Could you tell the K9 to load up or put them on a down/stay to render aid in the event of a critical incident?
4. Understanding the basics of air scenting
Knowing the basic principles of the K-9 olfactory system can make you more successful and SAFER! With everything being equal and given the opportunity, ALWAYS begin the search downwind. Your handler team knows this, but it can influence many things you can do prior to them showing up. Where you choose to gather resources and the specific location where the search can be launched can all be coordinated prior to the K-9 team's arrival if you understand these basics.
Knowledge of principles of perimeter containment, assignment of search team dynamics and terrain issues can help you be the K-9 team's favorite patrol officer.
5. Searching assignments
Get picked to be the one providing cover for the handler by knowing what the K-9 handler needs. Understanding a little about what the K-9 handler is actually doing can make you more effective in providing them security and often times will give them more confidence in selecting you to go with them on the searches in the field during hot calls. Being able to spot when a dog is "in odor" can make you that better cover officer.
6. Know what to do on contact
You can increase usefulness and efficiency in the situation by understanding a couple of key things.
Pack mentality and Alpha behavior are instinctual to the K-9 but how you handle yourself in the moments of application can help ensure that you are not inadvertently bitten in the apprehension phase. Some dogs may re-grip often in the apprehension, especially younger K-9s. Other K-9s prefer specific regions of a suspect's body. This is vital to know if you haven't worked with this K-9 team before.
The K-9 may not distinguish your hand from the suspect's thigh. The dog may prefer a specific targeted area but initiated contact in a different location. Some agencies, either by policy or training, practice utilizing specific target areas more than others. As an example, if a K-9 unit extensively uses sleeves, those K-9s will be much more predisposed to direct their applications to the forearm or tricep area of a suspect.
7. Writing up the K-9 use of force
This is going to vary greatly by agency and by the individual handler because most handlers have specific areas they generally want to cover themselves. This being the case, there are still a number of things you can do to re-enforce important facts in your documentation by understanding the use-of-force policy the K-9 team is utilizing.
If you are the primary officer or case agent on the call, you are in the unique position of laying out some details and insights that may not be covered otherwise. Remember, as the primary officer or case agent you will be the one tying together all of the incident and supplemental reports.
8. Article searches, contraband searches and other dog uses
A K-9's olfactory capacity is truly amazing and to a large degree still being understood, but there are a few things you can do to help leverage that strength without being a scientist.
Resist the temptation to go through the scene when possible! Your K-9 team will have much more success finding contraband during a vehicle search if everything inside hasn't been touched, moved, and contaminated by four other officers.
The K-9 can differentiate people scents, but why ask it to distinguish between the 12 different pairs of boots officers were wearing when they tromped through the scene from the suspect's shoes if you can avoid this.
A K-9 can easily rule things out as easily as they can find the article, contraband or subject you are looking for. Help the K-9 team and your mission out by showing some discipline and minimizing unnecessary contacts and initiating the K-9 team's call out early.
9. Advocate for your K-9 team
I can't emphasize this enough! You don't have to be a K-9 handler to celebrate the good work a K-9 team has done or how useful they have been during a particular incident. This can easily go unnoticed, especially by other agency personnel and administrators who weren't there.
The countless hours the K-9 team has put in will never accurately be reflected in a "surrender" situation where no actual K-9 application was executed. Usually, that "surrender" is a direct result of the working reputation of the agency's K-9 unit on the street and the K-9 team's confidence obtained from those endless hours of training out of the spotlight.
You can help your fellow officers, deputies and the public realize the value of this highly specialized unit by sharing those stories of success. Look for opportunities to connect successful incidents to the specific K-9 and handler involved.
10. Find new locations
When possible, find willing community members who could share an unusual building or location as a future K-9 training location. Those can not only be helpful to the K9 teams but can serve as valuable public relations alliances for both. The community loves showing off social media photos taken with the K-9s and your handlers will love you for turning them on to a new location! That is a win/win for everyone.
NEXT: 8 investments worth every penny for K-9 officers
---
About the author
Art Carlos retired from the Clovis (California) Police Department after 20 years of service as a patrol officer. He was the sole narcotic dog handler for the department for many years. He also worked K-9 with many other agencies upon request. He assisted on countless narcotics search warrants throughout the service life of his dog. He has been a defensive tactics instructor as well as a department range master and has 30 years of experience in martial arts and grappling. He's passionate about officer safety, officer wellness and mental elements related to this profession.