Fugitive compliments Wash. deputy, K-9 for locating him
The man, who was hiding in a trunk, told the deputy he did a "phenomenal job" of finding him
---
By Police1 Staff
SPOKANE COUNTY, Wash. — A fugitive, who was hiding from police in the trunk of an abandoned car, thanked a deputy and his K-9 after they found him. 
The suspect, Timothy J. Lafontaine, 35, was allegedly high, armed with a knife, and had a valid felony DOC warrant out for his arrest, according to a statement from the department. When officers couldn't find Lafontaine, Deputy Tyler Kullman and K-9 partner, Khan, were called to the scene.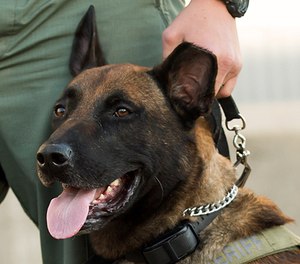 After a search, Khan discovered Lafontaine in a trunk of an abandoned vehicle under clothes and other random items. 
When discovered, Lafontaine told Kullman he did a "phenomenal job" of finding him, according to the department. 
Lafontaine followed up with "God bless you and your dog. Your dog is a bad (expletive)."