Rapid Response: Chief's 'early retirement' offers reminders about cops and free speech
The courts have held that off-duty conduct will not be protected if the agency can prove a nexus between the offending conduct and the officer's employment
---
What Happened: This week on North Carolina's Topsail Island — a destination for thousands of beach-going vacationers and countless sea turtles every year — Surf City Chief of Police Mike Halstead was forced into retirement during an "emergency" town council meeting. 
Halstead had written a Facebook post in which he called the Black Lives Matter movement "nothing more than an American-born terrorist group" and placed blame on the media's coverage of police-on-civilian shootings for recent murders of police officers. This raised the ire of the president of the state chapter of the NAACP and some other community activist groups, who then pressured town leaders to take action against him.
Halstead — whose career in law enforcement had spanned 35 years — had already planned on retiring later this year, but following his Facebook post, the town council reportedly urged him to expedite that process.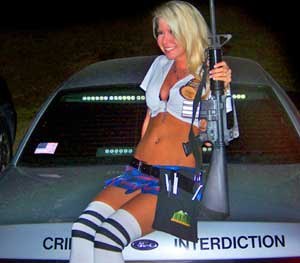 Why it's Significant: Chief Halstead's specific comments are not the focus of this analysis. This incident is significant because it highlights some important points about police employees and the First Amendment. 
Do cops have the right to free speech? Yes, they do. But being a cop isn't a "right." That is a privilege earned though completing a rigorous selection and training process and is maintained through ongoing performance assessment. Let's review some thoughts about our cops and online commentary. 
First and foremost, it's probable that in the case of Chief Halstead, he had a contract with the town which stipulated that he not represent the city in a way the town counsel considered unfavorable. Just like on Amity Island, where the town leaders didn't want Chief Brody saying anything about a big hungry shark which might affect business, on Topsail Island, town leaders didn't like Chief Halstead saying anything which might besmirch the town's tourist image. His post probably gave them the leverage needed to claim he was in violation of that contract. 
Let's take this conversation now to the rest of the police employee universe. As Police1 Columnist Terry Dwyer wrote, "A police agency has a right to protect its reputation and to demand the unsullied reputations of its officers. This right — often enforced through a department's rules and regulations and further enhanced by a code of ethics — is often expressed in 'conduct unbecoming' charges. Off-duty conduct will not be protected if the agency can prove a nexus between the offending conduct and the officer's employment."
This has been upheld in court. For example, in the case of Nixon v. City of Houston, a Houston police officer was fired after the department learned he had been writing articles in his off-duty time — unbeknownst to the agency — in which he made "caustic, offensive, and disrespectful" statements regarding certain groups of citizens, including minorities, women, and the homeless, according to HPD. 
Those articles were not online — they were in a local periodical — but the Nixon ruling has been subsequently applied to online conduct on several occasions.
Even if your online activities don't get you fired, you can find yourself suspended, demoted, or transferred to less-than-desirable duties. For example, Albuquerque Police Detective Trey Economidy — who made headlines for listing his job description as "human waste disposal" shortly before getting into a fatal OIS — was allowed back on the job after receiving "significant discipline." 
Your online comments are also discoverable in court. Hypothetically, for example — if you post, "If you have a knife, no matter what, I'm going to shoot your [expletive]" and then one day get into an OIS involving a subject with an edged weapon, you must be prepared to revisit those statements in court proceedings. 
Attorney Missy O'Linn — a former police officer and a senior partner with the Los Angeles-based law firm Manning & Kass, Ellrod, Ramirez, Trester LLP — told Police1, "If you indicate a predetermined course of action — to use deadly force for example — 'I'm going to take some action,' and you then you take that action, you've presented yourself as predisposed to take that action without consideration of whether that action would be objectively reasonable. 
"However, there's a lot of information missing in that equation: the immediate threat, time available to make decisions, speed and distance, the crimes committed, and other factors including officer/subject factors such as the number of officers and subjects; age, size and relative strength of the subject; specialized knowledge or skill of subject; injury or exhaustion and everything else that goes into the totality of the circumstances of an incident."
Your "speech" in the context of the First Amendment includes pictures and videos posted on social media. 
In Midland (Texas) in 2009, Deputy Daniel Subia was fired, Deputy Art Nunez received a letter of reprimand, and Deputies Miguel Ramos, Chris Evans and Ron Wright received three days of suspension without pay after the department learned that the men had posted an ill-advised picture of a scantily clad Twin Peaks waitress atop a squad car, holding a patrol rifle. 
Key Takeaways: As one Police1 Member commented beneath the news of Halstead's forced retirement, "You would think most Law Enforcement Officers would have learned by now that Facebook is not your friend." 
Remember that: 
1. If you wouldn't say something out loud at a public meeting, don't say it online
2. Anything you post on the internet is forever — even if you delete it
3. You may be "right" in a comment and still be "wrong" in the eyes of the agency
4. Images and videos are similarly scrutinized and can have dire impact on careers
5. Your online 'speech' can not only lead to discipline, it can be discoverable in court
6. The courts have upheld the right of the employer to regulate cops' off-duty conduct
What's Next: Surf City — which has a population of just a couple thousand permanent residents but more than 40,000 "Likes" on Facebook — clearly takes its social media presence very seriously. It's highly likely the leaders on your little "island" have a similar mindset. Behave accordingly.
It is unfortunate that Chief Halstead is the most recent law enforcer to lose his job over something he posted on social media. He is not by any means the first, and sadly, he is probably not the last. Don't allow yourself to become the next. 
Further Reading: 
Pitfalls for police officers on Facebook 
Posing, performing, and conduct unbecoming