Anchorage officer accused of on-duty rape
---
By Rachel D'Oro
Associated Press
ANCHORAGE, Alaska — A decorated Anchorage police officer has been accused of sexually assaulting multiple women while he was on duty.
Anthony Rollins, a 13-year veteran and former department spokesman, was indicted by a grand jury and arrested Wednesday. He's being held on a $100,000 bond.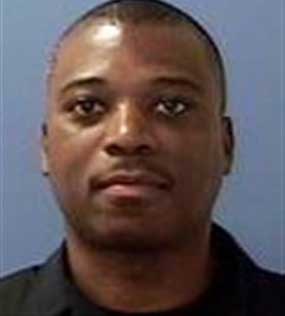 "Let me stress that Rollins' alleged actions are aberrant and detestable," Police Chief Rob Heun said at a press conference. "Officers are compelled to function independently within the confines of the laws they are sworn to uphold and have the authority to enforce. They are and should be trusted to protect life, to protect property and maintain order."
Rollins, 41, is charged with four counts of first-degree sexual assault, six counts of second-degree sexual assault, four counts of criminal use of a computer and six counts of official misconduct.
A local group that supports victims of sexual assault - Standing Together Against Rape - brought one woman's allegations to the police department's attention in April.
Authorities said that police, with assistance from the FBI, then began an investigation into Rollins' past contact with women, and found five more alleged victims as far back as March 2006. Heun would not elaborate on how Rollins met the women, saying only that Rollins encountered them during field interviews.
Details of the assaults were sketchy in the indictment documents. Police and prosecutors also gave few details, saying the investigation is ongoing.
Rollins, who is married, has been honored by police several times. Last year, he received the department's Medal of Valor for rescuing a man from a burning building. In 2004, he received the department's Meritorious Conduct award for his role in an anti-bullying program in local schools.
Nancy Haag, executive director of Standing Together Against Rape, said the group does not comment on specific individuals or cases.
"Any sexual assault is traumatic and I'm sure an authority figure only compounds that trauma, fear and hopelessness," she said. "In general, the issues that need to be recognized here are those who perpetrate these crimes need to be held accountable and the survivors need deserve to be heard, believed and offered support."
Rollins is set for a court appearance on Friday.
Featured Resource:
White Paper: Using Groundbreaking Technology to Locate Sex Offenders
From LexisNexis Advanced Government Solutions