Driver found not guilty in 2019 crash death of Fla. deputy
The driver was found guilty of reckless driving and sentenced to 90 days in jail, which he has already served
---
By Rafael Olmeda
South Florida Sun-Sentinel
BOYNTON BEACH, Fla. — Darran Johnson drove recklessly the night he got into the crash that killed Broward Sheriff's Deputy Benjamin Nimtz, a jury decided Friday. But Johnson was not criminally responsible for the crash.
Johnson, 36, of Boynton Beach, was found not guilty of the most serious charges against him, DUI manslaughter and vehicular homicide, which could have resulted in a prison sentence of more than 30 years. Instead he was found guilty of reckless driving and sentenced to 90 days in jail, which he has already served.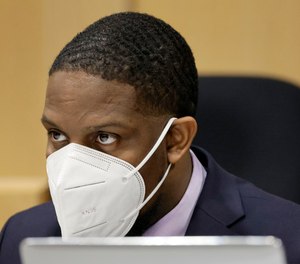 He was also sentenced to 10 years' probation. Johnson was scheduled to be released from the Broward County Main Jail Friday night.
Nimtz, 30, was an Iraq and Afghanistan war veteran who had worked for the Broward Sheriff's Office only for a year at the time of his death. He had been planning to move to Indiana with his wife and their two children.
Prosecution witnesses had already conceded the defense was correct about one of their major contentions — Nimtz ran a red light at the intersection of Military Trail and Southwest 10th Street in Deerfield Beach, while Johnson had a green light. From there, defense lawyers W. Dale Miller and Zeljka Bozanic were able to cast doubt on the rest of the case laid out by prosecutor Ross Weiner, who argued that Johnson was drunk and too intoxicated to react in time to the lights and sirens on Nimtz's patrol SUV.
Jurors were aware that Nimtz was responding to an emergency call about 3 a.m. on July 21, 2019, but they did not know it was a domestic disturbance. In closing arguments Thursday, Bozanic questioned whether Nimtz had really activated his lights and sirens, and whether Johnson was as drunk as prosecutors alleged. Blood tests showed his alcohol content at 0.08%, which would make him legally drunk and presumably impaired.
Jurors decided in the end that the allegations had not been proven beyond a reasonable doubt.
Johnson pleaded guilty to a misdemeanor marijuana possession charge and one count of driving with a suspended license. Broward Circuit Judge Tom Coleman sentenced him to 364 days in jail, but because Johnson has been in custody since 2020, he did not have to serve any additional time.
©2023 South Florida Sun-Sentinel.
Visit sun-sentinel.com.
Distributed by Tribune Content Agency, LLC.
McClatchy-Tribune News Service