Man gets first N.H. death sentence in 49 years for killing officer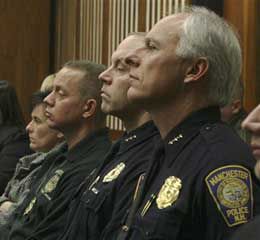 Manchester police officers listen to closing arguments in the sentencing phase of Michael Addison's capitol murder trial in Hillsborough County Superior Court in Manchester, N.H., Monday, Dec. 15, 2008. (AP Photo)
Related articles:
Jury finds N.H. man guilty of killing officer
Jury deciding whether N.H. cop killer meant to shoot
Witness testifies in N.H. cop killer's trial
Murdered N.H. officer "never got to his gun"
Officer Down: Officer Michael Briggs
By Beth LaMontagne Hall
Associated Press
MANCHESTER, N.H. — A jury has issued New Hampshire's first death sentence in nearly a half-century to a man who fatally shot a police officer two years ago.
Twenty-eight year-old Michael Addison had no reaction as the Hillsborough County Superior Court jury announced its verdict after about 13 hours of deliberation.
The judge must impose the sentence and cannot change it.
New Hampshire hasn't executed anyone since 1939 and hasn't sentenced anyone to death since 1959.
Jurors unanimously agreed that Addison deserves to die for purposely shooting Officer Michael Briggs to avoid being arrested.