The consequences of false statements and deliberate omissions in warrant affidavits
Recruit and in-service training on ethical police practice must emphasize the many pitfalls of such conduct
---
Carlos Luna, a Boston Police Department (BPD) Detective, obtained a search warrant for a residence based upon his sworn affidavit. Luna's affidavit claimed he received information from an informant that illegal drug activity was occurring at that residence. Luna and other officers went to the residence to execute the warrant. During a forced entry, shots were fired from inside the residence and an officer was killed.
Albert Lewin was charged with murder of the officer. During legal proceedings that followed, Lewin's lawyer moved for disclosure of Luna's confidential informant. The judge granted the motion, but the prosecution was unable to produce the informant. As a result, the trial judge dismissed the Lewin indictment. [1]
Detective Luna submitted a new affidavit in an effort to obtain reinstatement of the charges against Lewin. Luna admitted to making substantial material misstatements in his search warrant affidavit including the facts that he attributed to his informant. The case against Lewin was reinstated by the Massachusetts Supreme Judicial Court, but Lewin was later found not guilty of the officer's murder at trial. Detective Luna was subsequently charged and convicted of perjury and filing false police reports.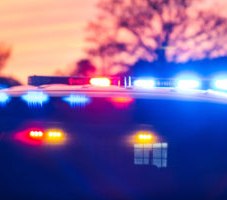 Some might suggest that the affidavit perjury of the Luna case was an aberration, a rare and infrequent occurrence. Sadly, the appearance of false statements in sworn affidavits happens too frequently. For example, in a separate matter, Boston Police detectives Walter Robinson and Kenneth Ascerra entered guilty pleas in federal court in Boston in 1999 and were sentenced to three years in federal prison for their role in a scheme to steal money and property from drug dealers by means of phony search warrants. A fellow detective, testifying before a federal grand jury under a grant of immunity, admitted preparing dishonest search warrants on his own and at the direction of other detectives. He admitted to falsely claiming he conducted surveillance of the targets of search warrants and falsely swore to the existence or reliability of informants. [2]
More recently, on 2/16/19, the New York Times reported that a Houston, Texas, narcotics officer lied in an affidavit for a search warrant about the use of a confidential informant to purchase heroin from a certain location. Houston Police Chief Art Acevedo was quoted in the article and said there were, "material untruths or lies" in the affidavit for a search warrant that led to the raid. When officers breached the door of the target location, a gun battle ensued. During the gunfight, four officers were shot and wounded and two occupants of the residence were killed. According to a separate article in Reason.com, two Houston officers involved in the incident have retired and the Houston Chief said the one of them is likely to face criminal charges. The article reported that under Texas law one officer could be charged with aggravated perjury. The article also reported that the Harris County District Attorney's Office is conducting a review of 2,200 cases that these officers were previously connected with.
According to a news release issued by the U.S. Attorney's Office for the District of Maryland on 2/12/19, a federal judge sentenced former Baltimore Police detective Momodu Gondo to 10 years in federal prison. Gondo was a member of the Baltimore Police Department (BPD) Gun Trace Task Force (GTTF). The news release reports that, "According to his plea agreement, Gondo conspired to steal money, property, and narcotics by detaining victims, entering residences, conducting traffic stops, and swearing out false search warrant affidavits." He also "prepared and submitted false official incident and arrest reports, reports of property seized … and charging documents." Gondo was one of several former GTTF detectives that have either plead guilty to federal racketeering charges or been found guilty after trial in connection with this matter.
During the federal investigation of wrongdoing by members of the GTTF, BBC News reported that the Baltimore City State's Attorney's Office (BCSAO) requested an internal affairs investigation of conduct by Detective Gondo's GTTF partner, Detective Jemell Rayam. The BCSAO learned that a criminal defense attorney alleged that Detective Rayam made intentional or reckless false statements in a search warrant affidavit. Moreover, a local judge found that Rayam's testimony was not credible and suppressed evidence gleaned from execution of the warrant. Rayam later plead guilty to racketeering conspiracy in the federal investigation of the GTTF.
In addition to the use of deliberate false statements in sworn affidavits, courts in America have consistently ruled that deliberate, intentional or reckless omissions of material facts from an affidavit by the officer affiant are likewise verboten. [3] A recent, and yet to be resolved, example, of the deliberate omission issue is found in a Memorandum prepared by United States [Congressional] House Permanent Select Committee on Intelligence (the "Committee") dated 1/18/18.  
The Memorandum reports that the FBI sought a Foreign Intelligence Surveillance Act (FISA) order for electronic surveillance on a volunteer advisor to the Trump presidential campaign from a Foreign Intelligence Surveillance Court (FISC) on 10/21/16. The Memorandum states that "Committee" findings reveal that the FBI application for the FISA order omitted material and relevant information, including the fact that the source of much of the information set forth in the application was paid by the Democratic National Committee and the Clinton campaign. On 3/28/18, Michael E. Horowitz, Inspector General, United States Department of Justice announced that his office will conduct a review of "information that was known to the DOJ and the FBI at the time the … [application for the FISA court order mentioned above was] filed from or about an alleged FBI confidential source." This review is still ongoing.
Conduct of this nature dishonors those who embrace it and makes a mockery of the judicial system that law enforcement officers sign up to protect. Here are four consequences of false statements and deliberate omissions:
1. Evidence suppression and case dismissal
The first consequence of false statements and material omissions in warrant affidavits involves evidence suppression and the dismissal of criminal cases. The United States Supreme Court [4] has ruled that the veracity of sworn statements by law enforcement officers in an affidavit can be challenged by showing that the affidavit contains deliberate/intentional false statements or statements made with reckless disregard for the truth. [5] Likewise, courts have consistently ruled that deliberate or reckless material omissions from an affidavit can result in evidence suppression as well. [6]
2. Lawsuits
Officers who utilize false material statements in affidavits or deliberately omit important facts from the scrutiny of a judge or magistrate are likely to be sued for money damages pursuant to federal civil rights law.[7] Some federal courts have also barred police defendants from asserting the qualified immunity defense in civil liability cases involving false statements and material omissions. [8]
3. Criminal charges
Affidavit perjury can result in criminal charges and criminal convictions for the involved officers. The criminal conviction of Boston Police Detective Carlos Luna for perjury and his dismissal from the police force represents a quintessential example of the disastrous consequences that can flow from engaging in this dangerous practice.
4. Disciplinary actions
Officers who engage in practices of this nature are also likely to become targets of internal department disciplinary investigations, which can result in dismissal from the force. Moreover, once a department disciplinary investigation results in an official finding that an officer lied in a sworn affidavit, that officer may be prohibited by prosecutors from ever testifying in future criminal cases. The officer's name may also be added to the prosecutor's "do not call for testimony" list. Even if an officer with a departmental finding of lack of candor in his/her personnel file is not terminated, the officer's career as an effective police officer will be seriously curtailed.
Conclusion
The decision to utilize deliberate/intentional false statements and intentional material omissions in sworn affidavits has career-destroying potential. Often, such dishonesty leads to further false testimony in subsequent legal proceedings, including criminal trials. Even worse, it can lead to financial ruin, criminal charges and conviction. Recruit training and in-service training on ethical police practice must emphasize the many pitfalls connected with such conduct. Superior officers must take complaints of this nature seriously and conduct thorough internal affairs investigations to stop this practice and deter others from engaging in it.
---
References
1. Commonwealth v. Lewin, 405 Mass. 566 (1989). Defense counsel reviewed 31 other separate affidavits prepared by Detective Luna in which he used the same informant as his source for much of the information contained in each affidavit. The Massachusetts Supreme Judicial Court found it incredible that one informant had provided information on drug cases from all over the City of Boston. Moreover, the court opined that it was highly questionable as to whether Luna's informant actually existed. 
2. Boston Police Detectives Robinson and Acerra were indicted by a Federal Grand Jury on 10/2/97. The indictment charged them with submitting and causing other detectives to submit affidavits that contained knowing and material false information about informants and surveillance activities. Moreover, the defendants used those fraudulently obtained warrants to take and seize money and property for personal gain.
3. See e.g. United States v. Rajaratnam, 719 F.3d 139, 146 (2nd Cir. 2013); United States v. Vigeant, 176 F.3d 565 (1st Cir. 1999) and United States v.Falls, 34 F.3d 674, 681 (8th Cir. 1994).
4. See, Franks v. Delaware, 438 U.S. 154 (1978). See also, United States v. McMurtrey, 704 F.3d 502 (7th Cir. 2013) and United States v. Harris, 464 F.3d 73 (7th Cir. 2006).
5. In Franks, the Court ruled that if statements in an affidavit are deliberately false or made in reckless disregard for the truth, the Judge must determine whether they are material to probable cause (i.e. If the false statements are removed from the affidavit, the Judge must decide whether the warrant fails for lack of probable cause). If probable cause is insufficient, evidence suppression will follow.
6. United States v. Castillo, 287 F.3d 21, 25 (1st Cir. 2002); United States v. Clapp, 46 F.3d 795, 799 (8th Cir. 1995). In Clapp, the court ruled that the defendant must show that facts were omitted with the intent to make the affidavit misleading. The reviewing court must then determine whether the affidavit still contains probable cause once the omitted facts are added to the probable cause determination. If not, suppression will follow.
7. See 42 U.S.C. §1983. See also, Rainsberger v. Benner, (No. 17-2521) (7th Cir. 2019); Aponte-Matos v. Pedro Toledo-Davila, 135 F.3d 182 (1st Cir. 1998).
8. Burke v. Town of Walpole, 405 F.3d 66, 82 (1st Cir. 2005) and Golino v. City of New Haven, 950 F.2d 864, 871 (2d Cir. 1991).