San Bernardino chief kept cool, calm during worst terrorist attack since 9/11
The chief has been praised for his cool-headed response in the chaotic aftermath of the massacre
---
By Phil Willon
Los Angeles Times
SAN BERNARDINO, Calif. — As police officers kicked open doors in the Inland Regional Center in the search for the armed assailants who just massacred 14 county employees, San Bernardino Police Chief Jarrod Burguan was outside scanning the terrain for a safe place to coordinate the sweeping emergency response.
He found it a block away — an abandoned house with a dirt yard and boarded-up windows, one of many pocking the streets of this hollowed-out city. Within minutes, police, fire and other emergency agency commanders huddled inside, out of gunshot range.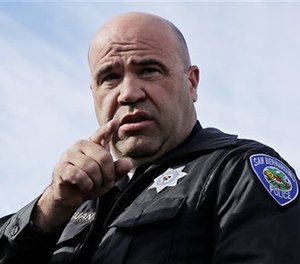 It was a no-nonsense move by a city police chief who has been praised for his cool-headed response in the chaotic aftermath of the worst terrorist attack on U.S. soil since Sept. 11.
When standing before television news cameras, Burguan's cleanly shaven crown and thick, linebacker frame punctuated his blunt, straightforward accounts of the manhunt and the rapidly developing investigation.
"He was quite effective in giving out whatever information he could, calming the public and discouraging any other lunatics from committing acts of backlash," said Brian Levin, a former New York City police officer and terrorism expert teaching at Cal State San Bernardino. "The response, of all the agencies, was a national model for first responder actions regarding terrorist attacks."
Burguan knew the nation was watching, and that San Bernardino was on edge. He held three news conferences on the day of the attack. He didn't dodge questions but also knew some leads could not be made public.
"I believe in transparency," Burguan, 45, said. "My philosophy has always been that if I can tell you, I'm going to tell you. And if I can't tell you, I'm going to say I can't tell you."
Burguan also took to Twitter to provide instant updates and knock down rumors: "Suspects are down, one officer wounded. Details still unfolding," he tweeted shortly after the assailants were killed in a gunbattle with police.
On Friday, he was at home and sending out a series of tweets explaining why a UPS station was evacuated after a delivery driver spotted a package addressed to one of the killers. "Item was safe, posed no threat." Moments later, he watched, amazed, as his tweet popped up on a television news broadcast.
"The power of social media," Burguan said.
Burguan, named chief two years ago after two decades as a San Bernardino officer, is uneasy with the attention, sensitive to the lives lost and those maimed in the terrorist attack and the long list of agencies, including the FBI and San Bernardino Sheriff's Department, involved in the case.
His pride, however, is difficult to hide.
"We knew the response was good, we knew people were very, very happy that we hunted down these guys and caught them very quickly," he said. "There's no doubt that these guys were going to do something else. They had an arsenal on them. They were going to continue fighting."
Burguan, a former football star at Bloomington Christian High School, just outside of Rialto, was 21 when he joined the San Bernardino Police Department in 1992. It was near the height of the crack epidemic, when gunfire echoed around the city almost every night and the homicide rate was double what it is today. He worked the night shift and went to night school, eventually earning undergraduate and master's degrees at the University of Redlands.
San Bernardino was a different city then. Lumbering C-141 Starlifters still flew out of Norton Air Force Base. There were two malls in town and a hopping restaurant row. Burguan, living on a traffic officer's salary, failed to qualify for a loan when he tried to buy a home up near Cal State San Bernardino.
"I watched the decline. I've watched businesses leave, and I saw Norton close," he said.
This once-proud blue-collar city has been hamstrung by years of bankruptcy, poverty and noxious politics. Since 2009, the police force has been cut by 100 officers. The anti-gang and other crime prevention programs "are a shell" of what they used to be, he said. There is a proposal to beef up the agency over the next five years, but it is before a federal bankruptcy judge awaiting approval.
"We're largely a reactive agency. I hate to say it, but that's the truth of the matter," Burguan said. "Our response times are not good. And the irony is, people are praising us for our response to this incident."
On the morning of Dec. 2, as Syed Rizwan Farook and Tashfeen Malik burst into the Inland Regional Center during a party for county health workers and opened gunfire, Burguan was 3 miles away at San Bernardino City Hall for a meeting with department heads.
Burguan's cellphone lit up with a call, but was on silent. It was from one of his captains.
"I ignored the call, twice," the chief said. "Then he texted me — 911."
The first San Bernardino officer arrived on the scene within four minutes of the first 911 call, and Burguan pulled up minutes later. Police cars and ambulances clogged Waterman Avenue, and teams of officers were evacuating the complex and going office to office searching for gunman.
Witnesses, panicked and fleeing to safety, gave varied accounts of the shooting. They described two, maybe three shooters, and possibly a getaway driver in a black SUV. They were described as white or Latino males, armed with assault rifles.
"Someone came out of the building (and) said, 'I think it may be (a) co-worker. This Farook guy," Burguan said. "He was at the party with us, and he left."
Burguan was with San Bernardino County Sheriff John McMahon and David Bowdich, assistant director in charge of the FBI office in Los Angeles, in a mobile command trailer in the afternoon when police radios lit up with chatter from a police pursuit of Farook and Malik. Their rented SUV was being tailed from their Redlands home into San Bernardino when they opened fire on police.
"I will tell you that's a heart-wrenching moment when you're listening to your officers in a gunbattle," he said. "You hear that an officer had been hit, and your heart just stops."
The officer, who sustained a leg wound, already is out of the hospital. Farook and Malik were killed in the firefight.
Riverside Police Chief Sergio Diaz credited the successful manhunt and efforts to prevent any additional loss of life to the effective cooperation between all the law enforcement agencies, which can be an issue in other jurisdictions.
"In Jarrod's particular case, he embodied professionalism," Diaz said. "The idea that there's no egos there, that you sacrifice your ego for the mission."
When evidence mounted of the assailants' possible links to terrorist organizations, Burguan said he had no issue with allowing the FBI to take command. He recalls Bowdich joking with him, saying "It's not like in the movies when the FBI charges in and says, 'We're in charge.'"
"They brought worldwide resources into this investigation," he said.
Meantime, San Bernardino remains on edge. Burguan said he's committed to increasing police patrols throughout the city in the near future, despite the cost, to assure residents that they are safe. And though he appreciates all the goodwill, he knows it won't last forever and his job won't get any easier.
Just last month, one of his officers was killed by a suspected drunken driver after dropping off an arrestee at the county jail. And earlier this year, when a 2014 video surfaced showing an officer using enough force to allegedly dislocate the elbow of a handcuffed suspect in a car theft case, Burguan quickly put out a statement vowing to investigate the incident. He assured residents that he was aware of the scrutiny police agencies are facing nationwide.
Terrance Stone, who founded the Young Visionaries gang intervention program, said the police agency is slowly recovering from a "real rocky relationship" with residents in many neighborhoods, especially among African-Americans. Police officials have made a concerted effort to salve those wounds from years ago, and the officers' quick action to hunt down the two terrorists, will only add to that goodwill, Stone said.
"They have to keep that up. One bad incident will change everything, and (they'll) be back to square one," Stone said. "This is San Bernardino, not Beverly Hills."
Burguan said he's well aware of that, half-jokingly adding that "next week they'll go back to being mad at me." But, he said, this past week the San Bernardino Police Department showed the world what it's capable of, and that's something to build on.
"No question, we've been through a turbulent time," he said. "But this is my home."
Copyright 2015 Los Angeles Times
McClatchy-Tribune News Service