More than 750 NYPD officers respond via air, sea, land to downed flight
---
Ed Note: Police1 Aviation Columnist Kenneth Solosky, a veteran NYPD helicopter pilot in his own right, provides his assessment of the heroic emergency response of police and firefighters to near-miraculous ditching of Flight 1549 into the icy waters of the Hudson River yesterday.
---
The Accident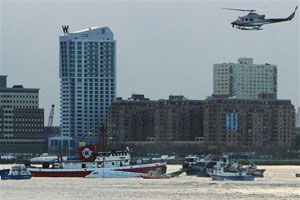 If anything good could have come out of the September 11 tragedy, it is the NY/NJ region's constant preparedness, training, and drilling in these types of emergencies. A major airliner down has been repeatedly practiced and drilled so every agency at least had a plan to follow.

The snow had stopped a few hours before and the sky was clear yet bitterly cold when Captain Chesley B. Sullenberger of US Airways flight 1549 throttled up his Airbus A320 aircraft and began his takeoff roll enroute to Charlotte, NC. Within two minutes of takeoff, Captain Sullenberger had a major problem on his hands. He reported a bird strike and requested emergency vectors back to LaGuardia airport. He quickly changed that request and asked to go to New Jersey's Teterboro airport, a very busy general aviation airport located just west of New York City. Finally, without any further radio transmissions, the Captain, utilizing all of his forty years of flying experience, training and judgment realized he could not make any airport and his options over the very densely populated metropolitan area were limited decided to make water ditching on the Hudson River. Expertly guiding his aircraft, the Captain achieved just that, a perfect water landing and the aircraft remained intact. The passengers were quickly evacuated to the wings of the aircraft.
The Response
The 911 calls poured in fast and furious to numerous emergency call centers on both sides of the Hudson. Some first response units themselves witnessed the crash and were reporting the details to their respective dispatchers. The "airliner down" confirmation was quickly made and set into motion a very well trained, practiced and rehearsed regional emergency response plan.
The NYPD's Special Operations Division spearheaded the response with units from the Emergency Services Unit, Aviation Unit and Harbor Unit. Within minutes, specialized units from ESU were on scene. These highly trained officers are EMT's, SCUBA divers, small boat handlers, and experts with all of their rescue tools. The NYPD Aviation Unit's Air Sea Rescue helicopter responded and deployed their SCUBA divers to commence an interior cabin search for any passengers. Aviation Units from the Nassau County Police department and New Jersey State Police responded and were medevac capable. Numerous boats form the Harbor Unit responded to help ferry any passengers and secure the boat.
In addition to patrol units, the NYPD mobilized their respective Boro "Task Forces" as well as their Hercules and Critical Response Vehicle teams. In a matter of minutes over 750 NYPD officers were assigned and "on scene."
The response from the FDNY was equally rapid and impressive. Units form their marine division, rescue; truck and engine companies responded and in cooperation with the NYPD, helped to assist in the rescue. Including both agencies, there were more than 1,000 rescuers on scene within a matter of 15 minutes.
The New Jersey side of the river also saw an enormous response, with multiple fire, police and EMS units responding. Within sixty minutes, there was literally thousands of responders were "on scene" and ready to assist.
The Incident Command Post was quickly established and all local, state and federal agencies were responding as planned. Fortunately, the large amount of commercial ferry boats was quickly on scene and was able to remove the vast majority of the passengers to both sides of the Hudson River for evaluation and treatment.
The NY/NJ Metro Region Response
If anything good could have come out of the September 11 tragedy, it is the regions constant preparedness, training, and drill in these types of emergencies. A major airliner down has been practiced and drilled so every agency at least had a plan to follow. Fortunately, most of the vast emergency response resources were not necessary it is always impressive to watch this regions "emergency response" teams gear up and respond. It is not overstating the case that there could have been 5,000 emergency responders on the scene within two hours. By any measure, an impressive showing.
As part of the emergency response plan, local trauma centers and specialized care centers such as pediatrics and burn centers were "on alert" and ready to receive any accident victims.
By all accounts the US Airways flight crew deserves tremendous accolades and kudos. There actions simply saved everyone's life, making for a very happy ending to what have could have been a major aircraft disaster. Congratulations to all involved on a job well done!
---