PoliceOne reader survey results: Off-duty carry
P1 readers answer five questions about off-duty carry frequency, holster placement, and type of firearm
---
Article updated October 24, 2018
Police1 asked readers, in a series of December, 2008 homepage polls, five questions about off-duty carry. Here are the results of those poll questions.
We were very pleased to see that two-thirds of the LEOs who responded to our first question indicated that they always (43 percent) or usually (26 percent) carry off duty. Fewer than five percent of our members choose to never carry off duty.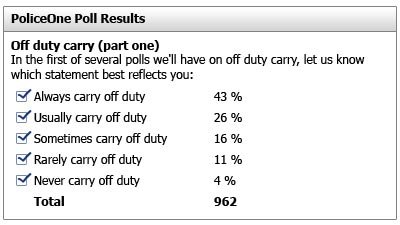 Most P1 members choose to carry at the belt line while off duty. Interestingly, the second question in our poll helps to also verify the veracity of our initial results that about one in ten Police1 readers choose to rarely or never carry while off duty.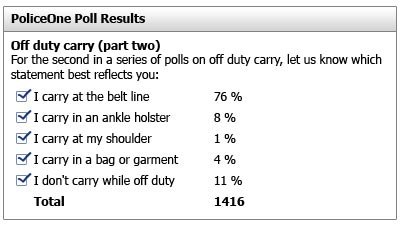 The overwhelming majority of Police1 readers responding to our third poll question say they carry a pistol, with only 10 percent of readers going with a wheel gun.
A full 40 percent of readers choose to carry a .40 cal, and in addition to the calibers we listed in part four of our survey, we heard from readers that they carry: .38 +p, .38 special, 340, and .357.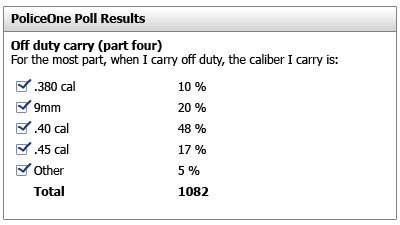 As we had expected, there were dozens of emails to the editor on this question, "Who makes your off-duty gun?" from members who carry something other than a gun made by the five firearms manufacturers we were able to list on the site.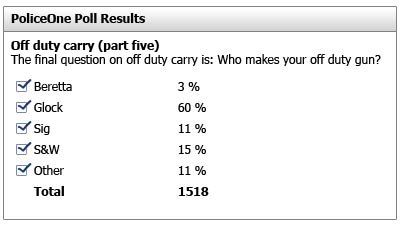 Among the most popular models that our readers emailed about were:
Browning BDM 9mm
Colt Lightweight .45 ACP
Glock mod. 22
H&K P2000
Kahr Arms PM-9
Kel-Tec PF9
Kimber 1911
Kimber Pro Carry .45 ACP
Kimber Ultra Carry II
Kimber Ultra Elite
Les Baer, Thunder Ranch .45 ACP
Paraordnance Carry 12 LDA .45ACP
REMINGTON RAND 1911A1
Ruger p97
Springfield Armory Champion .45ACP
Springfield XD .45 ACP
Springfield XD .40
Springfield XD 9mm
Taurus model PT140
Walther PPK/S
No matter what you carry, where you carry, we at Police1 want you to be safe, always.