The 'AnkleBiter' Rig from Sticky Holsters
Most cops will find the AnkleBiter works best with baby Glocks, J-frame revolvers, small-framed Sigs, or any other of the customary back-up pieces like the Kel-Tec P3AT or Smith Bodyguard 380
---
Those folks at Sticky Holsters have done it again. Most cops now know about Sticky Holsters, those patented IWB rigs that have revolutionized concealed and off-duty carry. Since I first wrote about Sticky Holsters, I've been told by Mike Christoff (one of the inventors of the device) that he's been bombarded with orders. Well deserved, too. It is one of most innovative products to come down the police pike in a long time.
However, one area that was lacking in their product line was a Sticky Holster for ankle carry. I have to admit that since retiring to Southwest Florida from the "Land of the Horizontal Snow" in upstate New York, I try to not wear long pants unless I have to. Most of the time, unless teaching a class or testifying in court, I'm in shorts. My classroom uniform is a training polo, 5.11 Tactical pants, and training sneaks — my S&W .40 S&W caliber Chief's Special snuggly secured by my IWB Sticky Holster MD4. But apparently, quite of few cops north of the Mason-Dixon Line who routinely carry their off-duty pieces in ankle rigs either called or emailed Mike demanding equal time. Enter the Sticky Holster AnkleBiter Rig. This incredibly simple but highly effective device can convert any existing Sticky Holster, (or any competitors IWB holsters for that matter such as the DeSantis Nemesis or those made by Elite Survival Systems, Tuff Products, or Active Pro Gear), into a very comfortable concealed ankle holster.
For the last few weeks, I've been playing with the AnkleBiter. Personally, I've found that it works best with my trusty bobbed-hammer Smith Model 36 inserted in a Sticky Holster MD5, but I tried it with the aforementioned Chief's Special in the MD4 and it works fine with tactical pants that are cut a little bit wider and looser than dress slacks. Most cops will find the AnkleBiter works best with baby Glocks, J-frame revolvers, small-framed Sigs, or any other of the customary back-up pieces like the Kel-Tec P3AT or Smith Bodyguard 380. Medium-framed guns will fit, too, but realistically, aren't practical since bell-bottom jeans went out of style with 60's era Hippies.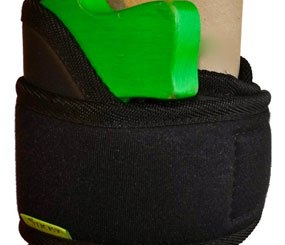 Made of the same proprietary material as their other Sticky Holsters, this professionally bound 29" x 3" padded band uses just the hook part of Velcro at several strategically placed locations to secure the device to either ankle. The exterior of the band acts like the loop part of Velcro. The entire length of the interior of the rig sticks to your skin or socks — but the real security secret to the device lies in the virtual "strong-as-iron" bond that's formed when the four-inch by five-inch sticky patch of the device touches the exterior of the Sticky Holster you're using.
The highly-padded band won't cut into, bruise, or bite even the tenderest of ankles (despite the name AnkleBiter). I know because I've worn it during more than a few 8-10 days. Most cops who use a Sticky Holster know that just inserting the holster inside the waist band of your trousers will keep the holster secure because of the unique way the soft, leather-look, rubber-like propriety material molds to the shape of the gun and keeps the holster secure against cloth or skin. But when you put that propriety material against itself, you can literally turn cart wheels without the rig moving.
As usual, his Lifetime "No Questions" Warranty on materials and workmanship that comes with any Sticky Holster product also applies to the AnkleBiter Rig. The retail price is of the AnkleBiter is $34.95, but qualified LEO's should contact Sticky Holsters to inquire about the 15 percent police discount.
He's also continued his Sticky Holster incentive program where cops can earn a free Sticky Holster or AnkleBiter Rig. Officers can introduce either product to their favorite local gun shop or police supply store to qualify for the program. Visit their website (www.stickyholsters.com) to register.
Lastly, since this is the second product T&E piece I've done for Sticky Holsters, I feel compelled to state for the record that I have no financial interest or business connection whatsoever with either Mike Christoff, Sticky Holsters or Mobile Tactics Training. Mike is a professional firearms trainer/business owner concerned primarily with the safety and survival of today's street cops. I pay for my range time and ammo when I shoot at Mobile Tactics.
By the way, I've recently seen Sticky Holsters' new back-up gun vest rig, the B.U.G. Pad. If you're looking for a virtually invisible, undetectable yet inexpensive way to carry your second gun, this rig is it! Contact Mike for info on this LEO-only device.
For info on the Sticky Holster, Mike can be reached at: www.stickyholsters.com, mike@stickyholsters.com or (239) 825-7031 — or through www.ShootOnTheMove.com, www.mobiletactics.com, mike@mobiletactics.com or by phone at (239) 434-1844.