1 deputy killed, 1 shot in SC
A spray of bullets fired from behind a closed apartment door killed a deputy and wounded another Monday night
Duty Death: Joseph J. Matuskovic - [North Charleston, South Carolina]
End of Service: 09/08/2014
---
By Bruce Smith 
Associated Press
NORTH CHARLESTON, S.C. — A spray of bullets fired from behind a closed apartment door killed a South Carolina deputy and wounded another and led more than 100 officers to descend on the complex before they determined the person inside was also dead.
Police received a report Monday night that someone was intoxicated and beating on doors and cars, causing a disturbance at the suburban Charleston complex. Three Charleston County deputies responded to a second-floor apartment.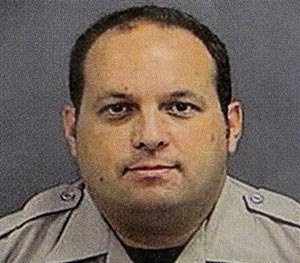 "They went to the apartment and knocked on the door. They identified themselves as being from the sheriff's office and the party inside started firing through the door," said Chief Deputy Mitch Lucas.
Lucas said one or perhaps more of the officers returned fire as they rescued those who had been hit.
As word spread, authorities said the 100 law officers, including a SWAT team, surrounded the apartment. Some residents were evacuated while others were told to stay inside and lock their doors.
The hours-long standoff ended in the wee hours of Tuesday morning after a police robot with a camera confirmed a man inside the apartment was dead.
Lucas said Deputy Joseph J. Matuskovic, 45 and a 17-year veteran of law enforcement, died. Deputy Michael Ackerman, 43, was shot in the leg and was undergoing surgery Tuesday at the Medical University Hospital, he said.
During the standoff, officers tried to contact whoever was inside the apartment with no success. Lucas said the person had a cellphone and could have been talking to other people.
When police entered, Michael Oswald, 38, was dead inside.
Lucas said that both officers who were shot were wearing body armor. He said he did not know what kind of gun was fired from the apartment.
"This case was full of unknowns," said Lucas who, with other deputies, had black cloth bands across their badges. "We had SWAT team members and police officers responded. The only thing we were sure of is that someone was on the other side of the door shooting through the door at police officers. We had no idea how many."
The State Law Enforcement Division is investigating.
Authorities said that the last time a county sheriff's deputy died in the line of duty was when a sheriff's helicopter crashed back in 1993.
Gov. Nikki Haley, who was attending a trade conference on the nearby Isle of Palms, said she had been in touch with SLED on Monday night as the incident unfolded.
"When you look at days like today, when you look at the sacrifices made, there is not enough we can say or do to thank these officers," the governor said. "We need to hold them up because the entire family of law enforcement officers is grieving today."
Copyright 2014 The Associated Press