La. officer dies of injuries from shopping center shooting
"Cpl. Shawn Kelly was a great public servant, a great father, grandfather, husband and just a great human being," the Denham Springs police chief said
Duty Death: Shawn Kelly - [Denham Springs, Louisiana]
End of Service: 06/02/2023
---
By Lara Nicholson
The Advocate, Baton Rouge, La.
DENHAM SPRINGS, La. — A Denham Springs police officer who was critically injured in a shooting last month near I-12 died Friday afternoon in the hospital, the department said.
Cpl. Shawn Kelly was shot multiple times shortly before 4:30 p.m. May 11 in the parking lot of Spring Park Plaza on South Range Avenue.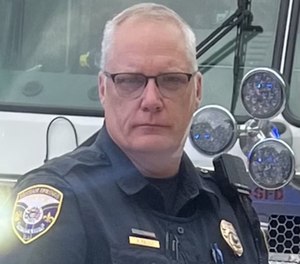 "Cpl. Shawn Kelly was a great public servant, a great father, grandfather, husband and just a great human being," Denham Springs Police Chief Rodney Walker said in a statement. "He was was one of the finest men I've ever known. The Denham Springs and Livingston Parish communities have truly lost one of its finest."
Police said Kelly died "surrounded by his family, friends, and members of the DSPD." His remains were escorted in a procession Friday evening from Our Lady of the Lake hospital to Seale Funeral Home in Denham Springs.
Funeral arrangements have not yet been finalized.
Kelly and other officers had responded to a call about an argument between a man and a woman who did not know each other outside a Petco, officials said — once Kelly and another officer arrived, 30-year-old Justin Roberts of Denham Springs allegedly began firing at them from his car, striking Kelly multiple times.
DSPD spokesman Sgt. Scott Sterling said in the days after the shooting that Kelly wasn't originally supposed to be at the scene; he was assigned to the traffic unit, but noticed the responding officers were busy and volunteered to help them out.
Roberts fled the scene but was soon shot down by a Livingston Parish Sheriff's deputy after Roberts approached them with a gun, deputies said. He died from his injuries in the hospital later that night.
An investigation by the East Baton Rouge Parish Sheriff's Office connected Roberts to two other rage incidents that took place nearby in the minutes leading up to the shooting.
Kelly began his law enforcement career in 1994 with the Louisiana Department of Corrections and other state agencies. He joined DSPD in 2019 as a taser instructor and field training officer.
Kelly had received "multiple commendations for his generous ways and positive attitude" as well, Sterling said.
"I will always remember DSPD Cpl. Shawn Kelly as a hero," Livingston Parish Sheriff Jason Ard said Friday in a statement. "He died doing what he loved to do — serving & protecting his community. In addition to that, he brought our Livingston Parish community together reminding us that we are in this together, that we need to continue working together & that — together — we can do great things."
At a blood drive hosted by DSPD for Kelly at Our Lady of the Lake hospital days after the shooting, coworkers and community members flocked to support him. Sydney McCullough, a coworker of Kelly's, described him as "the old man of the group" and said he "always made everybody laugh."
Sterling announced that evening that more than 185 liters of blood had been donated that day alone — additional drives took place across East Baton Rouge and Livingston parishes in the days following as well.
Locals organized benefit lunches and dinners for weeks afterward to help Kelly's family with medical costs. On Thursday, Livingston Parish Sheriff's Office shared photos of dispatchers donning shirts with Kelly's name from a fundraiser at Sport N Center, a local sporting goods store.
Among these fundraisers included one planned for Saturday at the Denham Springs Municipal Oaks Pavilion on Government Drive, which event organizers said will still be held to support Kelly's family. The event will last from 11 a.m. to 10 p.m. with food, live music and a car show.
"We're still going with it, and all of the proceeds are still going to go to his family," said Kasey Jackson, one of the event organizers. "He still passed away, he's still not going to have his job, and his family still needs support."
DSPD had also organized its own benefit for the officer, scheduled for June 10 at Le Chien Brewing Company.
Staff writer Elyse Carmosino contributed to this report.
___
(c)2023 The Advocate, Baton Rouge, La.
Visit The Advocate, Baton Rouge, La. at www.theadvocate.com
Distributed by Tribune Content Agency, LLC.
McClatchy-Tribune News Service