Nev. trooper struck while deploying stop sticks dies
Trooper Micah May died of critical injuries he sustained while trying to apprehend a carjacking suspect
Duty Death: Micah May - [Las Vegas, Nevada]
End of Service: 07/29/2021
---
By Suzie Ziegler  
LAS VEGAS — Trooper Micah May of the Nevada Highway Patrol (NHP) has died after spending two nights in critical condition.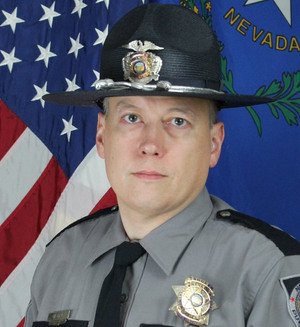 May was laying stop sticks along a highway when the carjacking suspect he was trying to apprehend hit him. After the collision, the suspect was shot dead by police, according to FOX 5. The driver was identified as 60-year-old Douglas Claiborne.  
May was airlifted to a hospital where he later died. The NHP confirmed his death in a tweet late Thursday. 
"Trooper May's heroism exemplified the definition of a silent guardian. His dedication and service will never be forgotten," George Togliatti, director of the Nevada Department of Public Safety, told FOX 5. "Our hearts go out to this grieving family and recognize the unique sacrifice to the State of Nevada." 
May is survived by his wife and two children, according to the NHP. He is the 12th member of the agency to die in the line of duty.