Officer who fatally shot Alton Sterling appeals firing
Blane Salamoni's petition alleges his firing "was not made in good faith or for cause"
---
By Michael Kunzelman
Associated Press
BATON ROUGE, La. — A white police officer who shot and killed a black man during a struggle outside a Baton Rouge convenience store has appealed his firing over the deadly confrontation nearly two years ago, his attorney said Friday.
The former officer, Blane Salamoni, is asking a civil service board to rescind his firing and reinstate him to the Baton Rouge Police Department, according to his three-page appeal petition.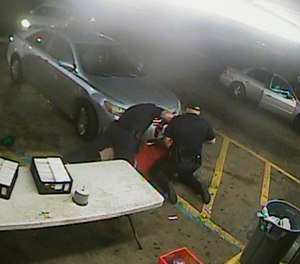 Police Chief Murphy Paul fired Salamoni on March 30, less than a week after Louisiana's attorney general ruled out state criminal charges in Alton Sterling's July 2016 shooting death.
Salamoni's petition claims his firing "was not made in good faith or for cause."
"He wants to show that what he did was not wrong," said Salamoni's attorney, John McLindon.
McLindon said he plans to call witnesses at a board hearing that hasn't been scheduled yet. He said it would be "more in line with a trial" than the disciplinary hearing Paul held a day before he fired Salamoni.
"The rules of evidence are somewhat relaxed," McLindon added.
Salamoni shot Sterling six times after he and a second white officer, Howie Lake II, wrestled the 37-year-old man to the ground. Lake shocked Sterling twice with a stun gun but didn't fire his firearm that night.
The officers recovered a loaded revolver from Sterling's pocket. As a convicted felon, Sterling could not legally carry a gun.
Paul said he fired Salamoni for violating department policies on use of force and "command of temper." He suspended Lake three days for violating only the latter policy.
"My decision was not based on politics," Paul said during a news conference. "It was not based on emotions. It was based on the facts of the case."
Two cellphone videos of the incident quickly spread on social media after the shooting, fueling protests at which police arrested nearly 200 people. Videos from the officers' body cameras and store surveillance camera remained under wraps until the police chief announced Salamoni's firing.
Body camera footage captured an officer, said to be Salamoni, screaming profanities and insults at Sterling before and after the July 5, 2016, shooting. Salamoni also pointed a gun at Sterling's head and threatened to shoot him before he and Lake wrestled him to the ground in the parking lot outside the Triple S Food Mart.
Sterling had threatened someone with a firearm before the officers responded to a report of a man with a gun outside the store, where Sterling was selling homemade CDs, according to Attorney General Jeff Landry's report on the shooting.
Salamoni told an internal affairs investigator in September 2016 that he cursed at Sterling to send a message that the officers weren't "playing," a police report says. Salamoni also said he saw Sterling reach for and hold a gun in his pants pocket right before he shot him.
Trying to explain why he swore at Sterling after the shooting, Salamoni said "he was so mad at Sterling for making him kill him and for trying to kill us," the police report says.
In June 2017, Baton Rouge Mayor Sharon Weston Broome called on Paul's predecessor, Carl Dabadie Jr., to fire Salamoni. Dabadie refused, saying it would be improper and premature because the shooting remained under investigation.
The criminal investigations effectively ended with Landry's March 27 announcement that his office isn't charging either officer. The Justice Department ruled out federal criminal charges last May.
Salamoni, 30, had served as a Baton Rouge police officer for four years before the shooting. Lake, who was a three-year veteran of the force, returned to his job last week after serving his suspension. Salamoni and Lake had been on paid administrative leave since the shooting.
Paul announced the officers' discipline a day after holding separate, closed-door hearings. Civil service board hearings are open to the public.
State Examiner Robert Lawrence, whose office oversees Louisiana's police and fire civil service boards, said Baton Rouge's five-member board typically meets monthly but can hold special hearings. Board hearings are "a little less formal" than court proceedings, he said.
"They're not held to the same evidentiary standards," Lawrence said.