Boston gunman who wounded officers wanted to 'die famous'
Heavily armed and armored gunman Kirk Figueroa told one of his roommates he intended to die famous — right before he opened fire wounding two officers
---
By Matt Stout, O'Ryan Johnson and Dan Atkinson
Boston Herald
BOSTON — Heavily armed and armored gunman Kirk Figueroa, shot dead in Wednesday's firefight in East Boston, told one of his roommates he intended to die famous — right before police say he opened fire with a tactical shotgun, critically injuring two officers before other cops killed him.
"He said, 'You're going to read about me in the newspaper. Everyone is going to know my name,'" said Julian Morello, the younger brother of Diego Morello, who lived with 33-year-old Figueroa. "I don't know if he planned it or what."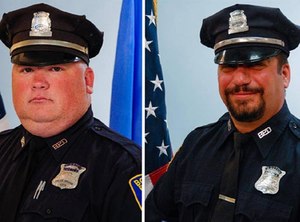 A domestic dispute brought police to their Gladstone Street home at 10:51 p.m. The call quickly became a life-and-death struggle, with witnesses reporting as many as 50 gunshots.
Yvonne Figueroa, the gunman's mother, told the Herald that she called her son shortly before 11 p.m. Wednesday only to have him rush off the phone.
"I was trying to talk to him. He told me, 'Gotta go.' The police were there. That was it," she said yesterday by phone from her New York home. "I just happened to call because earlier he had left a message. I called, and that was it."
Now, even as she mourns her son, Yvonne Figueroa said she is praying for the two injured officers.
"I'm terrified. My heart goes out to the police officers and I hope they recover," she said. "I will keep them in my prayers. … Please, please, let them know."
Officers Matthew Morris and Richard Cintolo were both critically wounded in the gunfight and underwent surgery yesterday — after their fellow officers braved gunfire to pull them to safety while stanching their massive bloodflow. Nine other officers involved in the shootout and the rescue were treated for stress.
Yvonne Figueroa said she never "heard of (her son) using any gun" before, though records show he did have a firearms license in Florida. Now, she said she can't stop crying for a son she said she knew as "a loving, kind human being."
"I lost him," she said.
The domestic argument, Julian Morello said his brother told him, was with a third roommate about either a "key or about religion."
"I told him, 'They're adults, just let them handle it,'?" Julian Morello said. He said his brother decided to take a shower and drive home to New York City rather than stay with the feuding roommates. But when he got out of the shower, the cops had already arrived.
"They were like, 'Get down on the floor!'?" Julian Morello said, recounting his brother's experience. "Then all he heard was shooting and people screaming. A cop grabbed him and pulled him out of the house and he just ran."
Police Commissioner William B. Evans hailed quick-thinking officers who helped save their wounded brothers in blue.
"I got to commend the officers for rushing into that building with no fear whatsoever to ?rescue two fellow officers," ?Evans said.
"Officer Morris was hit in one of the main arteries in his leg. The officers were quick to put their hands and as well apply a tourniquet — which doctors later said probably saved his life — while officers also gave immediate first aid to Officer Cintolo."
Evans said both officers were heavily sedated at Massachusetts General Hospital, but he was able to speak with them. He said officer Morris recognized a brother officer for saving his life with a tourniquet. Both officers were listed in critical condition late yesterday.
Evans said Figueroa was wearing a ballistic vest when he opened fire with a tactical shotgun on officers.
"He quickly displayed a rifle and without provocation opened fire on officers," Evans said. "Nobody likes to take a life … but he chose to use deadly force."
McClatchy-Tribune News Service