Calif. cop killer gets minimum sentence, prompting DA to rebuke judge
El Dorado County Sheriff's Deputy Brian Ishmael, who was fatally shot in October 2019, left behind a wife and three children
---
By Michael McGough
The Sacramento Bee
SACRAMENTO — The man who fatally shot El Dorado County Sheriff's Deputy Brian Ishmael in October 2019 has been sentenced to 15 years to life in prison for second-degree murder, California's statutory minimum for the crime.
Juan Carlos Vasquez-Orozco, 22, was convicted last month by a jury for killing Ishmael as the deputy responded to a midnight 911 call at an illegal marijuana grow site near Somerset.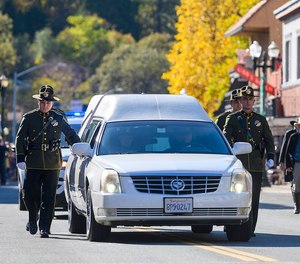 Christopher Garry Ross, the property owner who called 911 and told authorities he saw men he believed to be stealing his plants from his grow, actually knew Vasquez and another man were tending to the property.
Vasquez opened fire, hitting Ishmael four times and wounding another deputy, Josh Tasabia.
In a scathing three-page statement Monday, El Dorado County District Attorney Vern Pierson blasted Friday's sentencing decision by Sacramento Superior Court Judge Sharon Lueras and blamed recent legislation passed by California lawmakers he said has "eroded" accountability for violent crimes.
"It no longer matters whether you use a gun or how many people you harm or how many prior violent felonies you have committed," Pierson, who had sought a maximum sentence of 40 years to life, said in his statement.
Pierson referenced Senate Bill 620, which gave California judges more discretion in striking crime enhancements from sentencing decisions. Pierson said the legislation paved the way for what the prosecutor called a lenient sentence.
Lueras in her sentencing decision struck three gun enhancements against Vasquez that had been found true by the jury that delivered his guilty verdict on April 15.
Lueras determined Vasquez does not pose a significant danger to the public, that the crimes were mostly situational, that he had been deceived by the property owner, that he was only 20 years old at the time of the crime and that he had no known prior criminal history.
Pierson countered that Vasquez's age is already considered for parole purposes. He also alleges that Vasquez has never expressed remorse for his crimes.
Ishmael, 37, left behind a wife and three children.
Lueras additionally sentenced Vasquez to a five-year term for the assault on Tasabia, to be served concurrent with the life sentence. El Dorado County prosecutors had sought eight years for the assaults on Tasabia and two other deputies, who were shot at but not struck by gunfire.
"The Legislature has cleared the path for judges to individually assess defendants and disregard any enhancement, resulting in wildly inconsistent sentences that fail to hold violent criminals accountable," Pierson's statement continued.
From 1997 until SB 620 took effect at the start of 2018, a defendant found guilty of murder or any other crime resulting in great bodily injury would face a mandatory 25-year addition to their sentence if convicted with an enhancement of discharging a firearm. The tough-on-crime sentencing law it replaced was nicknamed California's "10-20-life" or "use a gun and you're done" legislation.
"Over the last several years the Legislature has eroded these efforts (from the 1990s), greatly reduced accountability for violent crime and repeat offenders and given the courts free hand to strike sentencing enhancements," Pierson said in his statement. "Across the state we are seeing the negative effect of these changes as victim's rights are ignored and violent crime increases."
SB 620's author, Sen. Steven Bradford, D- Gardena, argued that people of color were being "disproportionately impacted by our state's overly punitive sentencing laws" and said the circumstances in each case should be considered.
"We must provide judges with the same level of discretion at sentencing as we afford prosecutors when filing charges," Bradford said in a news release when Brown signed the bill into law.
Ross, the property owner at the marijuana grow site near Somerset, has pleaded guilty to voluntary manslaughter and will be sentenced to 11 years, eight months.
Ramiro Bravo Morales, who was tending the site with Vasquez, was convicted of being an accessory after the fact and pleaded in federal court to conspiracy to manufacture marijuana.
The Bee's Sam Stanton contributed to this story.
©2022 The Sacramento Bee. Visit sacbee.com. Distributed by Tribune Content Agency, LLC.
McClatchy-Tribune News Service