'If you won't kill me, I will kill you!'
An officer recounts the reasoning behind his decision not to use deadly force
---
Submitted by Sergeant R. Paige
What happened?
A domestic violence/assault suspect fled a residence almost ramming my patrol car. A short pursuit terminated with the suspect crashing and fleeing into the woods.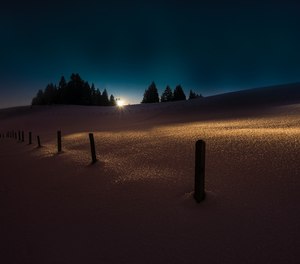 He was believed to be very intoxicated and was found lying in the snow. His hands were under him and when he sat up, he kept one in his light leather jacket. I was drawn on him, finger on trigger, issuing commands from about 15 yards away behind a 6"-8" tree as "cover."
How did you handle the situation?
I continued to give commands, hoping a cover officer would arrive quickly. The suspect pushed the issue, begging me to shoot him. He eventually yelled, "Fine! If you won't kill me, I'll kill you!" while pulling his hand from his coat mimicking a gun and yelled, "Bang!" I did not pull the trigger, for multiple reasons: the distance, the time he had been lying in the snow, his intoxication (there were actually multiple contacts/history with this suspect and he was a habitual alcoholic), the darkness and my cover.
Looking back, was there anything would you have done differently?
Possibly wait for a cover officer to arrive prior to entering the copse of trees to pursue. This was well prior to that agency equipping officers with less-lethal shotguns or even TASERs.
What lesson did you identify from this situation?
During my initial training, my FTO told me how he took a murder suspect into custody after he killed two and bull-dozed the town hall. He was screaming and shaking his rifle when he was contacted, prior to being taken into custody. I was incredulous, wondering why he didn't shoot/kill him. He told me that the suspect was holding the rifle by the barrel and thus, was not an imminent threat to him. Had he brought the rifle to bear, he would have.
This restraint – seeing the entire picture, not just the previous actions – gave me pause years later. I believed the chances my suspect could accurately get off a round HAD he been armed, were extremely minimal and I would be able to respond accordingly. The suspect ended up serving 4½ years for that night's festivities and was admonished by the judge that he should be grateful he was alive and that the deputy had every right to shoot him yet showed restraint.
NEXT: The rarity of deadly force
To participate in Police1's Institutional Knowledge Project, click here. Questions? Email editor@police1.com.