'In God We Trust' draws debate over its public display
The first surge of putting 'in God We Trust' into public buildings happened just after the terrorist attacks of Sept. 11
---
Associated Press
COLUMBIA, S.C. — At the same time stickers with the motto "In God We Trust" are first being put on police cars in South Carolina, a state legislator is fighting to require the motto be placed in every school in the state.
"I wish every school board or principal displayed the motto. But they don't," said Rep. Alan Clemmons, the bill's sponsor.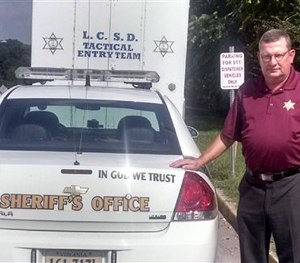 Ten states currently have laws that either allow or require the motto to be posted in schools or public buildings and the U.S. Supreme Court has not ruled on whether it is constitutional.
Annie Laurie Gaylor, co-president of the Freedom From Religion Foundation, said requiring that the motto be posted is unfair to anyone who doesn't believe in God.
"To be accurate, this would have to say 'In God Some Of Us Trust,' and that would be a terrible motto," she said.
Clemmons' bill is stalled in the Statehouse over concerns that requiring schools to display the motto might invite a lawsuit and the simple fact that there is nothing in state law stopping a teacher or principal from posting the official motto of the United States anywhere in a school they wish.
But that hasn't stopped the Myrtle Beach Republican from pushing the issue because he feels that many schools won't do it unless the state tells them they have to and it makes more of a statement if a school does it as opposed to an individual administrator or teacher.
Posting the motto in a public, prominent place became an issue earlier this week when Saluda County Sheriff John Perry announced his department would be the first in the state to put stickers with "In God We Trust" on its patrol cars.
"I firmly believe the safety of my deputies and even the county rests in a higher power. Regardless of their personal beliefs, I know my God will keep them safe as they protect our community," Perry said at a ceremony Monday.
The first surge of putting "in God We Trust" into public buildings happened just after the terrorist attacks of Sept. 11, 2001, Gaylor said. A second surge has happened recently, as police agencies began putting the motto on patrol cars in response to unrest against officers following several high-profile shootings of suspects by police.
Lawyers for the Freedom From Religion Foundation are fighting the motto in several courtrooms. The U.S. Supreme Court has not weighed in but there are conflicting rulings from different federal circuits. The Fourth Circuit, which includes South Carolina, has allowed the motto in public buildings.
Ten states — Arizona, Florida, Georgia, Kentucky, Mississippi, North Dakota, Ohio, Oklahoma, Texas and Utah — allow or require the motto in schools and public buildings, according to the National Conference of State Legislatures. South Carolina, Illinois and Pennsylvania are all considering similar legislation.
Copyright 2016 The Associated Press