New deal will require Chicago cops to radio in incidents when they point gun at someone
Cops would not have to fill out a use of force report, but supervisors would have to review the gun-pointing incident
---
By Dan Hinkel
Chicago Tribune
CHICAGO — By July 2019, any Chicago police officer who points a gun at someone during an arrest or street stop would have to inform dispatchers by radio of the incident under a deal between Mayor Rahm Emanuel's administration and Illinois Attorney General Lisa Madigan's office that was introduced Thursday.
Cops would not have to fill out a use of force report, as they do when they use a Taser or fire a gun, but supervisors would have to review the gun-pointing incident and it would be recorded in city data. The department also would have to develop training on when to point a weapon.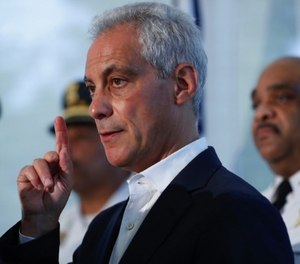 The issue of tracking gun-pointing incidents was a late sticking point between Madigan and Emanuel in the push to bring federal judicial oversight to the department, a process sparked nearly three years ago by video of an officer shooting teenager Laquan McDonald 16 times. Lawyers for the two officials have been working toward a consent decree — a court order enforceable by a federal judge — intended to tighten the rules on uses of force and strengthen supervision and discipline, among other changes.
Emanuel and Madigan released a 232-page proposed order in July, but they have continued to negotiate over the gun-pointing matter and were headed toward litigating the issue while pressing forward on the rest of the document. Madigan has said the department needs to track the episodes to ensure police are using their guns appropriately, while police officials have argued it could make cops hesitate in dangerous situations.
Then, on Wednesday, the parties reached agreement. The day before, Emanuel had announced he would not seek a third term.
Attorneys for activist groups involved in the consent decree litigation voiced tentative praise for the agreement while raising questions about the completeness and accessibility of the data that would eventually be kept. Attorneys noted that consent decrees governing police departments in other cities categorize pointing a gun as a serious use of force requiring comparably extensive documentation.
"If it's serious enough to point a gun at a person, which is an incredibly serious use of force, it's important enough to document why you did it," said Craig Futterman, a University of Chicago law professor involved in the litigation.
Still, Futterman and Karen Sheley, a lawyer for the American Civil Liberties Union of Illinois, described the deal as a step forward.
Madigan described pointing a gun at a person as a "very serious situation" that needed to be documented and said the agreement ensures the incidents will be recorded without compromising officer safety.
"There's nothing in the draft consent decree … that prevents an officer from defending themselves," she told the Chicago Tribune.
Police Superintendent Eddie Johnson told the Tribune he never opposed documenting the incidents in some way but wanted to prevent the rules from excessively burdening cops who already have to fill out lots of reports. He noted that officers doing paperwork are not patrolling neighborhoods.
"We have to be careful that we're not wiping the city clean (of officers), especially these challenged areas," he said.
The city's main police union, the Chicago Fraternal Order of Police, has opposed the consent decree, and President Kevin Graham has said that mandating the documentation of gun-pointing would put officers at risk. The union now has a policy of not commenting to the Tribune, and Graham declined to comment Thursday.
Lawyers for Emanuel and Madigan are working toward a new draft of the proposal to submit to District Judge Robert Dow Jr. following a public comment period on the initial draft that drew some 1,700 comments. Once that is filed, Dow plans to take written comments and hold hearings in October on what the final decree will include.
McClatchy-Tribune News Service