NYPD officer beaten during off-duty robbery now off respirator
Officer Muhammed Chowdhury was attacked by a gang linked to 19 carjackings and robberies
---
By Emma Seiwell, Nicholas Williams, Thomas Tracy
New York Daily News
NEW YORK — The off-duty NYPD cop brutally beaten by a crew of violent muggers who allegedly went on a weeks-long rampage is off a respirator and on the mend, relieved relatives told the Daily News Wednesday.
"He got his senses and he is doing well. He is responding to his wife," Jamil Ahmed, a nephew of victim Muhammed Chowdhury, told The News. "He's speaking, responding to his wife and doctor."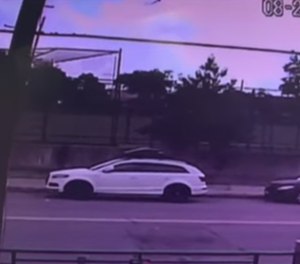 When he regained consciousness, his first words were "Pray for God," his cousin Shobu Ahmed said.
"He's doing good now," said Shobu, 36. "He's talking. We'll see what happens."
Chowdhury, 48, was jogging down Olmstead Ave. in the Bronx neighborhood of Soundview about 10:30 a.m. Tuesday when the assailants intercepted him near Lafayette Ave. and began pounding on him, authorities said.
They stole his wallet and cellphone and left him nearly unconscious on the sidewalk.
Police believe Chowdhury was attacked by a crew responsible for 19 carjackings and robberies throughout the Bronx and Queens this month. They allegedly kicked off the crime spree Aug. 1 with carjackings before switching up methods and robbing people on the street, police said.
The latest incident police linked to the gang was the brutal attack on Chowdhury.
"The family is shocked. They didn't expect this," Ahmed, 23, said. "The police officers who are the public servant and are our protectors — if they are getting attacked how are we safe in the city?"
"We didn't tell his kids yet what is going on with their father," Ahmed added.
On numerous occasions, 3 individuals approach a victim, while a 4th remains in the vehicle, and forcibly remove property from the victim. The most commonly used vehicle in this pattern is a black Honda Sedan. DM @NYPDTips or call 800-577-TIPS with any info. pic.twitter.com/J45Pfg0vNQ

— NYPD NEWS (@NYPDnews) August 24, 2022
The father of three often goes for a jog before beginning his 3 p.m. shift at the Central Park Precinct but rarely takes the route where he was attacked, Ahmed said.
"There's a park near the Whitestone Bridge, he would usually go there," Ahmed said. "He always done that daily routine. He would come back home, take a shower and then head to work.
First responders who found Chowdhury on the street rushed him to Jacobi Medical Center, where he was treated for a cracked skull and bleeding on the brain.
He will be monitored for the next few days so doctors can determine if he needs surgery, Ahmed said.
"It's all about his head," Ahmed said. "Only in his head he has issue."
On Tuesday, dozens of members of the Bangladeshi American Police Association visited with Chowdhury and his family.
"We just help each other out in times of need," said Sgt. Ershadur Siddique, the organization's vice president. "You will find people in good times, but we support each other in the bad times.
Siddique said he'd worked with Chowdhury for 12 years at the Central Park precinct.
"He's a great guy, very humble," the sergeant said. "It's very hard to see people like that … I can relate, it could've been me. It's just sad what happened to him."
Police and hospital staff didn't realize the victim was an off-duty cop until he failed to show up for his shift at the Central Park Precinct, cops said.
While he is responding and the bleeding to the brain has stopped, Chowdhury's recovery could take weeks or months, relatives said.
"I'm just so happy to see him," Shobu Ahmed said as he exited Jacobi Medical Center Wednesday. "Yesterday and today is really different. I cannot explain to you yesterday — and today is like day and night you know?"
But the cop can't help his fellow officers find the ones who attacked him, Shobu explained.
"He doesn't know exactly what happened," the cousin said. "He's not even remembering. He don't know what's going on. He's not really, really 100%."
The men who mugged him remained on the loose Wednesday.
Chowdhury's best friend laid blame for violent crime across the city on New York's bail reform laws.
"I don't hold the criminals responsible for this, I hold the politicians that are responsible," said Mohammed Ali, 48. "Same guys doing this again and again. Police officers are fed up arresting them and they come out through the other door."
Chowdhury has been a cop for 18 years and has been assigned to the Central Park Precinct for at least five years, relatives said. He's also an unofficial recruiter for the NYPD, inspiring at least 15 people to join the department, Ahmed said.
"He's been helping everybody, that's his personality. He wanted to do good for people and see his friends and family in a good position," the nephew said. "He's a hero to everybody. People see him as an idol."
Chowdhury is at least the second off-duty NYPD cop to be mugged in the Bronx in the last month.
On July 27, an officer was robbed of his firearm as he unloaded his car in Hunts Point after a crook ran up to him, pulled a gun, and asked, "Are you a cop?" police said.
The crook removed the officer's off-duty weapon, a Glock 17 firearm, before running off. The officer wasn't injured and no arrests have been made, police said.
Chowdhury's family is organizing a Bronx protest to demand justice, Ahmed said.
"He doesn't deserve this at this point of his career," Ahmed said about his uncle's attack. "Nobody deserves this."
Police on Wednesday released surveillance footage and stills of the men believed to be the attackers and asked anyone with information to call Crime Stoppers at (800) 577-TIPS.
©2022 New York Daily News. Visit nydailynews.com. Distributed by Tribune Content Agency, LLC.
McClatchy-Tribune News Service