NYPD officer shot by BB gun; second attack in two days
The officer was in uniform, stepping out of a police cruiser, when he was shot
---
By John Annese
New York Daily News
NEW YORK  — An NYPD officer was shot in the arm with a BB gun in Brooklyn Sunday night, cops said — the second pellet attack in as many days in the borough, cops said.
The officer was in uniform, stepping out of a police cruiser, when he was shot on Gates Ave. between Lewis and Stuyvesant Aves. about 7 p.m., police said.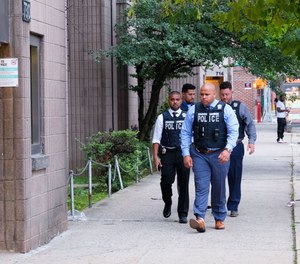 He was taken to an area hospital in stable condition. Cops have made no arrests.
On Saturday, an assailant randomly sprayed BBs on Mother Gaston Blvd. in Brownsville about 5:40 p.m., outside the Brownsville Houses.
The pellets struck several pedestrians, broke a car window and injured a police officer responding to the scene, cops said.
Police have made no arrests in either incident.
[READ: A cop's split-second decision: Real or replica?]
©2021 New York Daily News. Visit nydailynews.com. Distributed by Tribune Content Agency, LLC.
McClatchy-Tribune News Service