Pilot blamed in Alaska troopers copter crash
A fatal Alaska State Troopers helicopter crash was caused by the pilot's decision to fly into bad weather and the agency's inadequate safety management
---
By Jennifer Sinco Kelleher 
Associated Press
TALKEETNA, Alaska — A fatal Alaska State Troopers helicopter crash was caused by the pilot's decision to fly into bad weather and the agency's inadequate safety management, the National Transportation Safety Board concluded Wednesday.
Pilot Mel Nading, 55, Trooper Tage Toll, 40, and an injured snowmobiler they had picked up, Carl Ober, 56, all died in last year's crash about 5.6 miles from Talkeetna, a community of nearly 900 about 115 miles north of Anchorage. It's a popular tourist destination and a takeoff point for people climbing or flight-seeing Mount McKinley.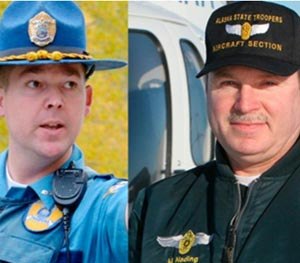 Contributing to the crash was the pilot's motivation to complete the search-and-rescue mission, which increased the risk and affected his decisions, the NTSB said.
The board also placed blame on the Alaska Department of Public Safety for having a "punitive culture." The board said the department's internal investigation of a previous accident involving the pilot focused too narrowly on the pilot's culpability instead of addressing underlying safety deficiencies.
"The pilot had adopted a defensive posture with respect to the organization, and he was largely setting his own operational limitations and making safety-related operational decisions in a vacuum, masking potential risks, such as the risks posed by his operation of helicopter (night vision goggles) flights at night in low (instrument flight rules) conditions," the NTSB said in an executive summary.
After picking up the stranded, hypothermic snowmobiler in a remote area in the darkness of night, the pilot, wearing night vision goggles, encountered snow showers within minutes of takeoff from a frozen pond, the report said. The pilot then "became spatially disoriented and lost control of the helicopter."
The Eurocopter AS350 was destroyed by the crash and a fire that started afterward.
The department didn't provide the pilot with training that could have helped him recognize the hazards that precipitation and low light conditions pose to night vision goggles operations, the NTSB said. The board also said the department should have a policy for having a second person familiar with helicopter rescue operations involved in the decision to fly or not fly.
A statement from the department called the crash "a monumental loss," and said the department has always fostered aviation safety. "However, in the aftershock of this tragedy, the department has since examined its aviation practices to help ensure that families will never have to go through this again."
Copyright 2014 The Associated Press