Remembering the Lakewood Four: 6 keys to preventing an ambush
Ambush attacks often occur when assailants perceive officers are relaxed and unprepared for such an assault
---
On November 29, 2009, Mark Renninger, Tina Griswold, Ron Owens and Greg Richards of the Lakewood (Wash.) Police Department were ambushed and murdered while writing reports inside the Forza Coffee Shop. In this article, Police1 columnist Lt. Dan Marcou shows how you can honor those four fallen officers by training to prepare for a sudden assault.
"Remember the Lakewood Four!" That should be your battle cry as you prepare yourselves for the possibility of a sudden assault or ambush. 
Since November 29, 2009, when Mark Renninger, Tina Griswold, Ron Owens and Greg Richards of the Lakewood (Wash.) Police Department were killed while writing reports inside the Forza Coffee Shop, some officers have been suddenly thrust into gunfights and others into eternity because of vicious ambushes and sudden assaults.
In 2013, Christopher Dorner killed the daughter of a retired police captain and her boyfriend. He also wounded a police officer on a protection detail. A short time later he killed Riverside Police Officer Michael Crain and wounded his partner as they sat in their marked squad waiting for a red light to turn green.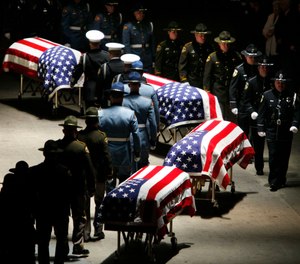 In June 2014, a husband and wife team walked into Cici's Pizza in Las Vegas and killed Officer Igor Soldo and Officer Alyn Beck while the officers were having lunch. 
Just three months later – in September – Eric Frein killed Corporal Bryon Dickson and wounded Trooper Alex Douglass at their headquarters.
Why did these suspects commit these crimes? Because they hated and wanted to kill police officers. People such as these are difficult to spot because they often hide nonchalantly among millions of people in this country who respect police officers. 
Sudden assaults can happen anytime and anywhere. These killers all attacked when they perceived the officers were relaxed and unprepared for such an assault – surprise is the key to a successful ambush.
Prior Preparation
You can improve your odds at prevailing in such an assault. Consider these six concepts: 
1. Believe it can happen to you. Complacency is a cop killer's most able accomplice. 
2. Never relax on duty. This includes the time spent on the way to and from work. Maintain a state of yellow, which is an alert awareness of your surroundings.
3. Strive to maintain a position advantage throughout your shift.
4. Have an exit plan – whether writing a report, having lunch, making a street contact, or even while approaching a barking dog complaint. Do this consciously for one week straight and after a while it will become seemingly automatic.
5. Scan and process, constantly making yourself aware of your surroundings. This will not only make you a better cop, but a safer cop. Avoid technological tunnel vision when you're in public. Every time you catch yourself engulfed by a technological snare, "Look up and look out!" and scan and process once again.
6. Train!
Prepare To MARCH!
When the unexpected battle commences, remembering the letters of the word "march" may help you as you MARCH into battle.
M: Move! Move left, right, forward, reverse, or even tuck and roll. Anything is better than standing still. A moving target is harder to hit. You may want to do this in your squad by quickly exiting the kill zone, or choose to exit your squad. Train for both eventualities, so that you can do it quickly under stress.
A: Arm yourself, acquire, identify and isolate the threat, and arrive at cover simultaneously as you move. Sound an alarm to innocents in the area to get down or get out. 
R: Return fire and reload. Request assistance. Retreat may be your only option in some circumstances to continue the fight effectively. Disengaging from the immediate area, to recover and regroup may truly be your only viable course of action. Once done, prepare for a return to the fight by rallying the proper personnel, with the proper equipment.
C: Continue the fight as you communicate to dispatch and other officers the location of the threat, type of threat and safe approach. Contain the threat and conclude the gunfight successfully. Continue thinking and acting up until the time when the threat is concluded, either by the suspect's capitulation, incapacitation, death from wounds, or when he commits suicide. Control the suspect(s) and his weapons as well as the scene. Be certain there are no multiple suspects. Check yourself for wounds.
H: Help yourself if you need emergency medical care. After establishing that you are good, help others. With that done and after controlling the suspect, render aid to him as well – this is what makes us the good guys/gals. 
Help should also include emotional help for officers involved, following this critical incident. All wounds are not physical.
There is no particular order to do these tasks! Sometimes, in fact, you may be moving, arming yourself, communicating, returning fire, and retreating all at once. Since you may have to do that in real life, you should find a way to safely train for this possibility.
A Visual Aid
On April 22, 2011, in the city of Tomah, Wisconsin, at the scene of a stop, the driver of a truck – Seth McCloskey – suddenly burst out of his vehicle firing at officers.
Even though the assault was sudden, the officers instantly returned fire on the suspect.
What you can't see is the attack was so instantaneous, one of the officers acquired his rifle and fired through the windshield of his car as he rolled out of it. Understandably acquiring his weapon was a higher priority than putting his car in gear. The squad rolled off, unoccupied as the officers continue to engage the suspect while communicating what was happening to dispatch. 
Sergeant Chris Weaver, Sergeant Scott Holum, Officer Josh Kenworthy and Officer Jennifer Helgerson prevailed in this sudden assault. These officers contained the vehicle and upon making a tactical approach, discovered McCloskey was stopped permanently by the officers' defensive fire. 
Watch this incident unfold: 
Remember Lakewood
Now it is time for you to prepare for the sudden assault that lies hidden in your future. As you do so, give your training context. "Remember the Lakewood Four!"
NEXT: On-Demand Webinar: Police ambush prevention and response: Evolving risk assessment and tactics