Seattle PD: Rioters tried to trap cops inside burning precinct with rebar, concrete
Security video obtained by local news shows part of the incident
---
By Suzie Ziegler 
SEATTLE — Seattle police officers were nearly trapped in a precinct building Monday night amid continued violence and civil unrest. 
According to KIRO, the Seattle Police Department said officers were forced to kick their way out of the building as rioters built a fire near the exit door. Police told KIRO that rioters had jammed the door with boards and rebar and then tried to seal the door with quick-dry cement.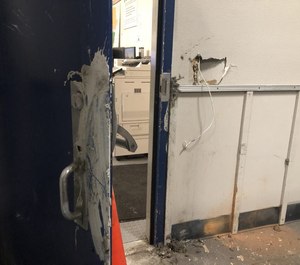 Security video obtained by KIRO shows part of the alleged incident. 
"I think what this shows you is that these people are intent on killing police officers," said Mike Solan, president of the Seattle Police Guild, to KIRO. Solan called the incident an act of '"clear domestic terrorism.'" 
"We're being held hostage by a group of 100 to 150 people that are bent on destroying this city and hurting police officers," Solan told KIRO. 
Solan says he believes the attacks on officers will escalate, according to KIRO. 
"They're not going to bully us into submission," he said. "They're not going to bully this community into submission." 
Exclusive video shows a coordinated arson attack on SPD's East Precinct. The door was jammed shut with boards and rebar and they attempted to seal it closed w/quick dry concrete. Cops had to kick the door open to get out, and put out the fire. pic.twitter.com/kw7mWN5ZEL

— Gary Horcher (@GaryKIRO7) August 26, 2020