Sheriff: Fla. hit-and-run suspect 'left them for dead'
Charles Lewis was arrested in a hit-and-run crash that left a Polk County deputy severely injured and a woman dead
---
By Christal Hayes and Caitlin Doornbos
Orlando Sentinel
LAKE WALES, Fla. — A man was arrested Thursday in a hit-and-run crash that left a woman dead and a Polk County deputy severely injured.
Sheriff Grady Judd announced the arrest at a news conference, describing the suspect, Charles "Charley" Lewis, 71, as "vicious."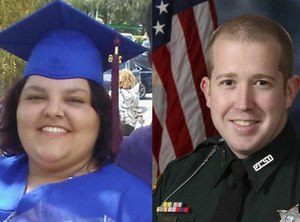 Judd said Lewis had been drinking beer at a party late Friday into Saturday morning and was driving home when he crashed into Jessica Enchautegui-Otero, 33, and Deputy Adam Pennell, 25, near Lake Wales.
Pennell had pulled over to help Enchautegui-Otero, who crashed along State Road 60 between Tiger Lake and Sam Keen roads about 12:40 a.m.
He got out of his patrol car, turned on his emergency lights and called dispatchers for assistance. But before medics could arrive, Lewis crossed into the median in his blue pickup and struck both the deputy and Enchautegui-Otero. He then drove off.
Judd said Lewis confessed to hitting the two and drinking before getting on the road. He said he remembered seeing the deputy's vehicle and swerving off the road to avoid crashing, Judd said.
"He said that he didn't remember hitting anyone, so he went on home. He didn't stop. He left them for dead," Judd said.
A tip from Crime Stoppers helped lead detectives to Lewis and his vehicle, which Judd said tested positive for human blood.
"Never underestimate the power of the community. Thanks to an anonymous tip, we were able to solve this case and help bring some closure to these two families whose lives were forever changed by the reckless actions of Charlie Lewis," Judd said.
McClatchy-Tribune News Service