Utah cops on flight back from NYPD funeral help restrain woman
Officers returning from the funeral helped restrain an unruly passenger on a JetBlue Airways flight until the plane was diverted to Chicago
---
By Michelle L. Price
Associated Press
SALT LAKE CITY — Three Utah officers returning from the funeral of a slain New York City policeman helped restrain an unruly passenger on a JetBlue Airways flight until the plane was diverted to Chicago.
The flight bound for Salt Lake City landed instead at Chicago's O'Hare International Airport late Sunday after the 32-year-old woman with a medical issue "created a disturbance," Chicago Police Department spokesman Thomas Sweeney said.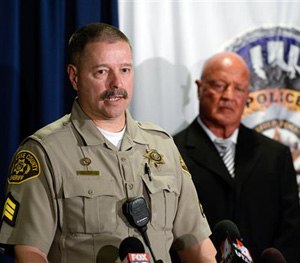 Once the plane arrived at O'Hare, an ambulance took the woman to an area hospital, where she was being evaluated, Sweeney said Monday. The woman was not arrested, and no charges were pending, he said.
JetBlue Airways spokeswoman Sharon A. Jones said Flight 71 departed from John F. Kennedy International Airport at 7:45 p.m. EST and arrived in Chicago around 10 p.m. CST.
The plane refueled before departing again. It landed at Salt Lake City International Airport around 1:40 a.m. MST, about three and a half hours late.
Salt Lake County Sheriff's Sgt. Terry Wall and two officers from the Unified Police Department in the Salt Lake City metropolitan area described the experience at a news conference Monday, saying the flight crew seated the woman near them about an hour into the flight.
The woman had been fighting with her husband, who was aboard the plane, Unified Police Officer Robert Odor said.
After being seated near the officers, the woman started having a medical issue and became combative. The officers said she tried to kick and spit at them and a doctor who was assisting her.
Wall said they did not handcuff the woman but held her arms and legs for about an hour and a half until the plane landed.
Jones said there were no reports of injuries or any damage to the aircraft.
Wall, Odor and Unified Police Officer Cody Stromberg were among the thousands of mourners attending the Sunday funeral of Officer Wenjian Liu, who was killed in an ambush shooting along with another officer while sitting in their patrol car.
Copyright 2015 The Associated Press